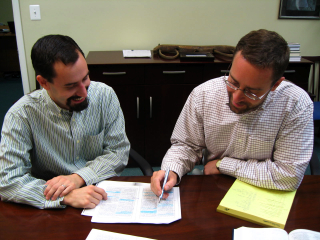 Committee on Christian Education Feature
Patricia E. Clawson
Over the last decade, Immanuel OPC in Bellmawr, New Jersey, has sponsored ten pastoral internships—seven in the summer, with three of them later serving for a year. Today, six of their interns are ordained and five serve in the OPC, including one as a missionary.
Why is this church so dedicated to training men for the ministry? "(We) see the nurturing of men for the gospel ministry in the OPC as a significant ministry to which God has called us, and which, by his grace, we feel we are able to proffer," said pastor Thomas Church. "Everybody wins, even in the case of one man whom we strongly advised not to pursue the ministry."
Many OP pastors have mentored seminarians as summer interns or graduates as yearlong interns. Over the past decade, four interns have served Grace OPC in Vienna, Virginia—two as summer interns and two as yearlong interns. Pastor Daniel Clifford sees sponsoring internships as a way "to help with the work, to help train a man for the ministry, and to give a ministry opportunity to the congregation at the same time."
Mount Rose Reformed OPC in Reno, Nevada, wasn't looking for an intern, but a man approached them seeking an internship around the time a sizable monetary gift was given to the church. The congregation decided to use some of the money for an intern because "having an intern would be a way to advance the church for future generations," said pastor Andy Preston. "It was a way we as a congregation could give back to the church."
The Process of Choosing an Intern
Before deciding to have an intern, churches must consider their pastor's time commitments, their finances, and how to find a suitable candidate.
Clifford first considered if he had enough time for an intern. "Although an intern will save me some work, I have to figure that overall it will be a net increase in labor for me," he said. He prepared a list of duties and discussions up front.
Clifford then ascertained how much an intern would cost and if they could afford one. Using online resources, he determined a reasonable wage for a married man with children living in their area. He considered the Committee on Christian Education's monthly support and his congregation's financial situation. Their financial package included housing and health insurance, which costs as much as the pastor's if the intern has a family, unless his wife has insurance with her work. Summer interns may be housed with families, but yearlong interns live on their own.
After the pastor, session, and trustees gave their support to having an intern, the proposal was presented at the annual congregational meeting. Clifford asked the congregation to welcome the intern into their homes and give feedback to him. Once they approved, Clifford interviewed candidates, selected a man, and coordinated his move.
Immanuel Church has the seminarian serve as a summer intern and then as a sessional assistant before they ask him to become a yearlong intern.
The Benefit of an Intern
Internships benefit the intern, the pastor, the session, the congregation, and the broader OPC.
Interns gain when pastors share their experiences, hopes and fears, and answer the question, "Why did you do that?" said Clifford. Preston's intern preached regularly and interacted with people who had family and job issues. He learned that the ministry isn't glamorous and to meet people as they are, Preston reported.
Clifford explained that mentoring pastors benefit from the clarity gained by explaining their pastoral work to others, from assigned readings, and from seeing their congregation through another's eyes.
"The session gains a vision for the wider church," said Clifford, as they consider whether this man should be a pastor and how best to prepare him for his next post.
The congregation connects to the whole OPC as their former intern shows up in New Horizons, broadening their vision for raising up men for the ministry, said Clifford.
The whole OPC also benefits. "Almost any intern in any OP church would leave that internship better equipped for his next calling," said Clifford. "Internships hold great promise, and I would encourage almost any congregation to give it a try." Church agrees. "I thank the Lord for the internship program, and I count it as one of the most important and significant parts of the work of the CCE."
"I hope that the intern would be a faithful minister in the OPC for many years to come, and that God would use him to bring some to salvation and as an encouragement to those under his care," said Preston.
The deadline for churches and seminarians to apply for internships is February 29, 2012. Information and applications are available at OPC.org; click on Christian Education, then select Internships.