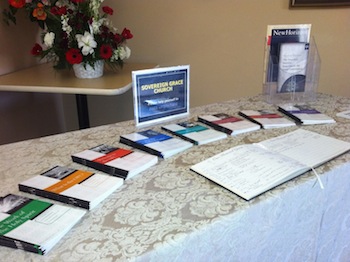 Committee on Christian Education Feature
Patricia E. Clawson
Step into many Orthodox Presbyterian churches, and you'll see a table topped with OP books, booklets, and brochures. This literature gives visitors and members far more than something free to carry home. It gives them a window into what the congregation believes.
Davenport, Iowa
The first impression visitors receive when entering Sovereign Grace OPC in Davenport, Iowa, for instance, is a table with the day's bulletin and these booklets: Welcome to the OPC, What Is the Reformed Faith? and Why Join a Church? This material is set out with a purpose. "A lot of people in the Quad Cities don't know the Reformed faith," says Pastor Ken Golden. "When we get visitors, we don't want to bombard them with too much information, but we want them to know where we're coming from. The booklets are a nice introduction."
Golden especially appreciates the church membership booklet because many in today's culture think church membership is a manmade idea. "This brochure dispels that thinking and shows a proper way to handle Scripture," says Golden. He also appreciates the professional look and aesthetics of the OP materials.
The OP literature played a part in his congregation's evangelism outreach at a local street fair last summer. Golden offered a free Bible and the brochure Get to Know Us Better to those who stopped for a fifteen-minute gospel presentation. Twenty-five people left their e-mail addresses and phone numbers. One started in the membership class.
Pastor Ken Golden sharing a CCE booklet in Davenport, Iowa
In his leadership training class, Golden uses the matching hardbound volumes, The Book of Church Order (BCO) and The Confession of Faith and Catechisms. Golden also has given The Confession of Faith and Catechisms to new members after they have completed their membership class. While he doesn't think visitors need to be immersed in the OP standards immediately, he thinks it helps new members, who have a different level of understanding. "Here's a Confession," Golden says to new members. "Have a crack at it."
Redlands, California
Pastor Robert Herrmann displays all nine of the OPC's booklets at Sovereign Grace OPC in Redlands, California, "Most visitors don't have OP roots, so they want to learn more about how the OPC works and our convictions," says Herrmann. "The booklets tell who we are. They are phenomenal. We feel it really explains who we are as a church."
The session's goal is to have the entire church learn the Confession of Faith and Catechisms. "We give all young people from middle school and higher a copy of The Confession of Faith and Catechisms," said Herrmann, who estimates the church spends three hundred dollars annually on literature. He hopes the Committee on Christian Education will continue to publish new materials.
Gainesville, Florida
Redemption OPC in Gainesville, Florida, gives the BCO as well as The Confession of Faith and Catechisms to people taking the inquirer's and officer training classes. "This reflects our desire that our church be self-consciously OP," says Pastor Joel Fick. "We want the people to imbibe the characteristics that make us distinctive. The books are beautifully bound and they sort of signal to the congregation that we define ourselves by them."
The BCO includes the Form of Government, the Book of Discipline, and the Directory for the Public Worship of God. Fick wants his people to have the Directory for Worship because it "summarizes in one document how we should worship. When they want to think through what we do in worship and why we exclude things, they can see where they come from." Also, he says, "The Form of Government tells how to be Presbyterian. It isn't incidental to the Scriptures, but the very point of the Scriptures."
At first, elder William Montgomery personally funded the gifts of the books. His enthusiasm stems from his time in another Reformed denomination, where many members did not understand Presbyterianism or know their denomination's standards. "I realize how valuable the standards are," says Montgomery. "The Book of Church Order is who we are and how we do things. We try to give members the ability to be as informed as we can. I have heard the thankfulness of many people."
These books are also part of their officer training class. "We want our elders to own the OPC as their church," said Fick. "They are becoming officers in a particular expression of Christ's church that has fought the good fight. We want that to be inculcated in them and perpetuate this love of the church. The more it is perpetuated in the officers, the more with the people."
Mayfield Village, Ohio
Pastor Geoffrey Willour, of Lake OPC in Mayfield Village, Ohio, is a big believer in having good literature for visitors and members. "As a confessional church, we need to be up-front with what we stand for," he says.
In membership class, Willour uses the booklets What Is the OPC? and Welcome to the OPC, as well as the brochure Get to Know Us Better. New members at Lake OPC now receive copies of The Confession of Faith and Catechisms and BCO. "When people join, it's important for church members to have these books in hand, and it encourages a sense of connection (with the OPC)," says Willour.
Willour promotes the booklet Why Join a Church? because "there are a lot of Christians in this country who don't see church membership as important, so we give out the booklet to help them think more about ecclesiology and their relationship to the church."
When Willour previously was pastor of Redeemer OPC in Toms River, N.J., he handed out Get to Know Us Better with their church tract, Bibles, and Welcome to the OPC at a flea market. The effort gleaned one family that became members. "You have to sow the seed broadly to get much by way of results," says Willour.
Kent, Washington
At Emmanuel OPC in Kent, Washington, Pastor Randy Bergquist taught his adult Sunday school class using the booklet The Work of the Holy Spirit, by Richard Gaffin. For six weeks, Bergquist read it out loud in the class, section by section, and then they discussed it as a group. While all fifty copies that Bergquist ordered were used, some class members also downloaded the digital edition of the booklet from the OPC.org website onto their Kindles, iPads, and other devices. "The class was very well received," said Bergquist. "There was lots of good discussion. It was talked about often in class, but also after class and in the homes."
The OP literature is available at the OPC.org website under Publications. "Although more people get information through electronic media than print media, I still think print media is important," says Willour. "I use the materials as a follow-up for visitors, for outreach, to supplement membership classes, and for the literature table." What better way is there to give folks a window into the OPC?
Copyright © 2018, The Orthodox Presbyterian Church. All Rights Reserved.