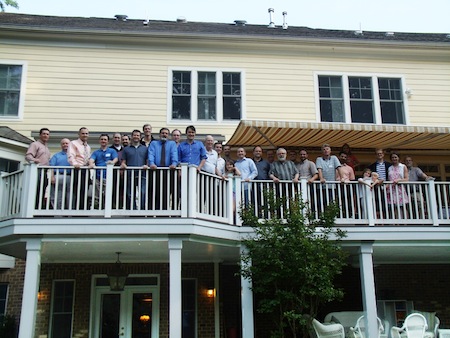 Committee on Christian Education Feature
Patricia E. Clawson
Both those serving as ministers in the Orthodox Presbyterian Church and those who aspire to ministry in the OPC have an opportunity to focus on important aspects of ministry by taking a course at the Ministerial Training Institute of the Orthodox Presbyterian Church.
The Spring 2014 MTIOPC courses are the Westminster Standards, Defending the Faith (Presuppositional Apologetics), Covenant Nurture (Catechetics), and Book of Discipline.
OPC ministers, elders, men licensed to preach, and men under care of a presbytery have until the January 24, 2014, deadline to register for a course.
MTIOPC offers what typical seminaries can't. "MTIOPC is an opportunity to cultivate the distinctions that are unique to the Orthodox Presbyterian Church," said Danny Olinger, MTIOPC director. "MTI is about OPC identity. For those who aspire to minister in the OPC, these courses educate, and for those who already minister in the OPC, these courses supplement their knowledge."
Courses Offered
Westminster Standards, a two-credit course, will be taught by the Rev. Dr. Chad B. Van Dixhoorn. An expert on the Westminster Assembly, Van Dixhoorn is associate professor of Church History at Reformed Theological Seminary in Washington, D.C., and an associate pastor at Grace OPC in Vienna, Virginia. The course will examine both the historical and the theological backstory of our confessional standards as well as the standards themselves. "The main focus of the course is the Westminster Confession of Faith," said Van Dixhoorn. "The main goal is to help participants move from confessional literacy to confessional fluency."
The Rev. Dr. William Dennison, who teaches Defending the Faith (Presuppositional Apologetics), a two-credit course, also teaches apologetics and systematic theology at Northwest Theological Seminary and interdisciplinary studies at Covenant College. A follower of Cornelius Van Til, Dennison will present the presuppositional method of defending the Christian faith. "The students should be equipped with a basic framework to remain faithful to the philosophy of revelation as found in Scripture as the challenges of defending their faith appear on their doorstep," said Dennison. "The students will be challenged to remain faithful to the self-attesting Christ of Scripture as they address intellectual and practical issues in our world of information."
Covenant Nurture (Catechetics), a one-credit course, is taught by Thomas Tyson. He seeks to teach the "why, what, and how" of catechetical teaching of our covenant children. When Tyson served for eleven years as CCE general secretary, he presented over sixty catechism seminars because he noticed that churches weren't catechizing their kids. While his students won't have heavy reading, they will memorize the first thirty-eight questions and answers of the Shorter Catechism. Tyson also taught catechism in the three churches he pastored in the OPC and two in New Zealand. He hopes his course will "connect pastors to children and young people in their church because they will be teaching the catechism."
Stuart Jones will teach Book of Discipline, a one-credit course. A retired OP minister, Jones is a member of the OPC's Appeals and Complaints Committee. He also has served as moderator and stated clerk of his presbytery and as counsel to a man under censure. Through this course, Jones seeks "to enable church officers to effectively govern the church, especially in the troublesome areas of conflict that sometimes give rise to formal complaints and discipline." His students should gain "a better ability to interpret what is essential in the Book of Discipline and apply it to situations." Instead of officers learning church discipline "on the fly," this course should help them grasp how discipline works in the OPC.
Why are these courses important for those ministering in the OPC? "Apologetics—defending the faith—in our modern culture is more relevant than ever," said Olinger. "The courses on Covenant Nurture (which emphasizes the Shorter Catechism) and the Westminster Standards help men to learn and teach the theology of our church. The Book of Discipline course helps men to understand how to proceed biblically and according to the OPC's Form of Government in matters of discipline." 
Administrative Information
 The MTIOPC courses begin on February 3, with online reading and writing assignments. They conclude with a mandatory Intensive Training session May 20–22 at Grace Orthodox Presbyterian Church in Vienna, Virginia. Travel scholarships are available to qualified students.
Applications, financial information, and a catalog are available on our website, OPC.org. Select "Christian Education," then "MTIOPC" under "Ministerial Training." Any questions? Contact Danny Olinger (olinger.1@opc.org) or Pat Clawson (ccesec@opc.org) or call 215-830-0900, ext. 4.
New Horizons, December 2013.
Copyright © 2018, The Orthodox Presbyterian Church. All Rights Reserved.