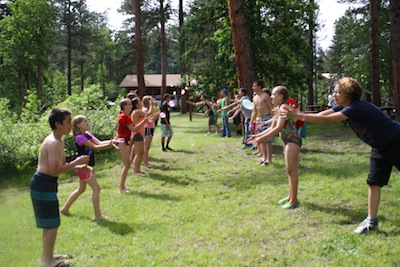 Committee on Christian Education Feature
Richard Travis
The time for Bible camp is fast approaching. Preparations are well under way. Active committees are looking for counselors, teachers, nurses, activity leaders, and recruits—and the list will grow. They will go to camp. The volunteers will take time away from their usual routines to dedicate a full week to be engaged with God's children.
Day and night they will oversee a cabin with those campers, and they will teach a group of fourth graders to seniors in high school (depending on their camp structure). Volunteers will participate in activities that will entertain them all. Amazingly, God forms them into a cohesive group. By the end of a week of counseling, preaching, teaching, singing, acting, hiking, and sweating, the volunteers may ask themselves, "Was camp worth the work?" My answer is, "Yes! Bible camp is worth the work!"
Procuring Camp Workers
The summer of 2014 was the last time I participated in the OPC-PCA Bible Camp in South Dakota. I did this ministry for twenty-seven years. I would promote the Youth Camp during the Presbytery of the Dakotas's meetings by urging everyone there, "Come to camp and work for food and lodging for a week!" I could do that because the campers paid the rate and we had enough in the bank to pay counselors, teachers, and the director. It was a good way to sell the program. Most people who participated in this ministry had to take vacation days and/or time off from work without pay. Along with city folk, we had a lot of farmers and farmers' wives participating, so the hook was that they didn't have to pay. Pastors would have to have someone fill their pulpit.
Camp is a time when participants do something completely out of the ordinary. Campers see their pastors, elders, and deacons in a different setting and as people who are just like them. Counselors and teachers are edified as they lead devotions and learn the importance of those devotions. Bible camp shows counselors, teachers, and campers that children are the same, no matter where they come from or what they know. Everyone has to come out of his or her comfort zone. So the next question is, "Why not participate?"
More Blessings Than Sorrows
During my twenty-seven years in this ministry, there were more blessings than sorrows. I cannot name all of the people I worked with, because there are too many. But I will mention two men, Rev. Floyd Haan, the PCA pastor in Pollok, South Dakota, who was the camp director for many years, and Rev. Darren Thole, the OPC pastor who taught me how to prepare lessons and devotions.
I cannot name all of the campers who came to youth camp. Some came for one year, and others for more. Some campers came for nine years (fourth grade through twelfth grade) and then came back as counselors. Some campers met their spouses at camp and now have children who come to camp. Some campers became pastors, elders, and deacons. Bible Camp is a blessing to the church.
Yes, sometimes there was conflict, but there will always be some conflict when there is such a gathering. But all in all, the blessings outweigh the conflicts. When I announced that I was leaving Youth Camp, a couple of the campers approached me after the worship service and lamented, "Camp will not be the same without you!" My response was, "No, it will be better because you will be there."
Relevant Scripture Passages
Some relevant verses (from the NIV) are:
"Train a child in the way he should go, and when he is old he will not turn from it." (Prov. 22:6)
"The fear of the LORD is the beginning of knowledge, but fools despise wisdom and discipline." (Prov. 1:7)
And concerning the laws of God:
"Impress them on your children. Talk about them when you sit at home and when you walk along the road." (Deut. 6:7)
We are commanded by the Lord to teach our youth, not only on the Lord's Day, but every day.
The Lord blessed our camps in many ways while I was there. I am so blessed that I was able to participate in this ministry. I thank God that he gave me the strength to do it. My prayer is that there are others who will be a part of the Bible Camp ministry.
The author, a ruling elder, is also a deacon working at Park Hill Presbyterian Church in Denver, Colo. New Horizons, May 2015.