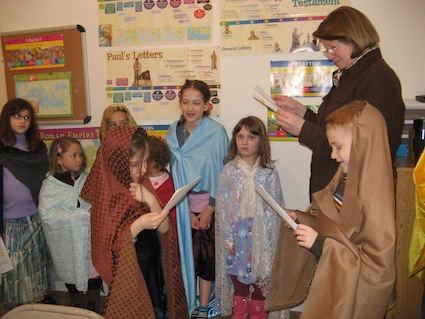 Committee on Christian Education Feature
Patricia E. Clawson
Considerable challenges face small congregations that seek to provide Sunday school programs for a small number of children spanning many grades. They may have few classrooms and few teachers available. They often must combine several ages into one class, leaving teachers to find curriculum that educates both readers and nonreaders, writers and non-writers. Instructors struggle to help the youngest understand the lesson while keeping the oldest from being bored.
Several Orthodox Presbyterian churches have met these challenges head-on.
Grace OPC in Wasilla, Alaska, usually has enough children to divide their Sunday school classes into four age-related sections, with their teens joining the adults. Sometimes the church has enough students for separate classes, but only enough teachers and classrooms for three.
"It's not ideal, mainly because it's difficult to find a curriculum that will work well for everyone in such a diverse group, readers and nonreaders," said Sunday school teacher Molly Henry. "It is challenging to have class activities, because they are not all capable of working through worksheets and written instructions. It is difficult to challenge the more-advanced kids sufficiently and not be over the heads of the less-advanced kids."
The Wasilla church confronts this problem, in part, by having students volunteer to read the stories and instructions out loud. This volunteerism keeps poor readers from feeling pressured or embarrassed, said Henry.
The church once had kids aged six through ten in one class. The teacher geared the material to the youngest so the nonreaders weren't left out, encouraged the older students to help the younger ones, and asked questions relating to the material to those veering off on tangents or chatting with neighbors. "It reengaged the children in a positive way rather than moving directly to a negative discipline approach," said Henry.
Covenant Presbyterian Church in Brighton, Michigan, typically has at least sixteen children attend Sunday school. They are divided into four groups, for preschool and kindergarten, elementary school, middle school, and high school. The teachers at those levels often have homeschooling experience and know what to expect and how to work around problems, said Pastor Douglas Doll. Helpers are assigned to the preschool and kindergarten class, so that different activities occur within the same class.
About twenty-two children attend Sunday school at Park Hill Presbyterian Church in Denver, Colorado. They are divided into classes for preschool, younger and older elementary grades, and junior high grades six and beyond. The teaching material is geared to the middle reading and age group. To keep students focused and not a distraction, the junior and junior high teachers give the more advanced students additional assignments, such as researching Scripture. One teacher allows the students to read "in character," said Laura Hill, Christian education committee chair at Park Hill.
At Sterling Presbyterian Church in Sterling, Virginia, only four children attend Sunday school. When they have a combined class, teachers seek one-on-one interaction with younger students, work alongside the older kids' parents, and encourage readers to "buddy up" with nonreaders. Teachers engage the older students while making extra accommodation for the younger ones, said Pastor Philip Proctor.
The Right Curriculum
The Wasilla church uses Great Commission Publication's curriculum, which the OPC coproduces with the Presbyterian Church in America. They find that the ideal combination of grades reflects GCP's divisions: grades 1–2, 3–4, and 5–6. If necessary, the church will divide the classes by their reading and writing abilities, combining grades 3–6. "In our opinion, it works much better to have the classes divided in such a way to be able to use the GCP materials, as it makes the job of the teacher so much easier," Henry said. "You can provide a mixture of instruction where the majority hits the middle of the road, but you offer some more advanced material to target the oldest kids (and challenge the youngest), and some material geared towards the youngest so they don't feel left out."
The Brighton church uses GCP's Kid's Quest Catechism Club materials for their preschool and kindergarten class, and GCP's Show Me Jesus curriculum for the elementary and middle school classes, targeting the middle range for each class. "We encourage graciousness in accepting where others might be," said Doll. Teachers for the high school and adult classes create their own curriculum.
Finding Enough Teachers
Beyond finding the right curriculum, small congregations also struggle to secure enough qualified teachers. The Wasilla church encouraged team teaching when volunteers were hesitant to teach. Once when a teacher was needed, someone volunteered who hadn't been considered.
The Brighton church has committed teachers "who love the prospect of discipling children in the faith," said Doll. "Sometimes, when we recognize someone with a gift not being used, we will speak directly to him or her and encourage them to use their gifts for teaching."
The Denver church has difficulty finding teachers because their members wear many hats and have so many commitments, said Hill. Without enough teachers, the junior highs have been combined with the senior highs.
The Sterling church's difficulties in finding teachers led them to drop classes for the youngest children. They also combined the kids in one class to avoid teacher burnout, said Proctor. Their five high school students attend the adult class, even though it is intimidating for them to analyze the Westminster Confession alongside professional attorneys.
Proctor advises churches to review their Sunday school programs annually: "Don't be afraid to add a program, drop a program, or reinstitute the same program. These are just tools in a toolbox—use the one you need at the moment."
Brent Evans, the pastor of Momence OPC in Momence, Illinois, laments that having fewer kids in Sunday school means that fewer kids are being trained as Christ's disciples. Yet in small classes the teachers form lasting bonds with their students.
Putting the dilemma of having few children in a small church into perspective, Doll adds: "Have patience and work with what the Lord has provided. He is the Lord of the church."