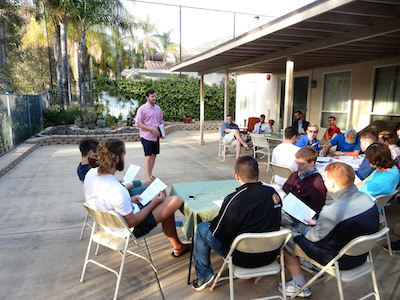 Committee on Christian Education Feature
David VanDrunen
The OPC Committee on Christian Education, through its Subcommittee on Ministerial Training (SMT), created the Timothy Conference in 2008 to provide a forum for teaching godly young men about the gospel ministry and encouraging them to consider whether God may be calling them to this work.
After nearly a decade, the SMT looks back with gratitude that approximately 150 young men have attended the nine Timothy Conferences, many have entered seminary, and three were ordained to the OPC ministry just in 2017.
The SMT plans to hold the next OPC Timothy Conference on April 11–14, 2018. Bethel OPC in Wheaton, Illinois will host, and conference participants will also get a taste of seminary life by attending classes at Mid-America Reformed Seminary in Dyer, Indiana. We urge all sessions in the OPC to consider whether a qualified young man in their congregation might be a good candidate to participate.
Jesus said that the harvest is plentiful, but the laborers are few—and thus we should pray for workers (Matthew 9:37–38). The Apostle Paul told Timothy that what he had heard from him, he should then pass along to faithful men, who in turn would be able to teach others (2 Timothy 2:2).
In light of this, the church as a whole ought to take responsibility for raising up the next generation of ministers, and not simply hope that good men will seek the office on their own initiative. Accordingly, the SMT's mandate, in part, is to "assist the churches in seeking out men with apparent gifts for the gospel ministry, and in pressing upon them its urgent claims." The OPC Timothy Conference exists to further this important goal.
Five OPC ministers will be speaking and mentoring participants at the 2018 conference. Rev. A. Craig Troxel (pastor of Bethel OPC, Wheaton, Illinois) will explain the nature and privilege of the ministerial office. Rev. Benjamin Snodgrass (pastor of Falls OPC, Menomonee Falls, Wisconsin) will describe what it means to be called to the ministry. Rev. David VanDrunen (professor at Westminster Seminary California) will explain what a Reformed seminary education involves and why it's important. Rev. James Megchelsen (pastor of Grace OPC in Elburn, Illinois) will help participants understand how to prepare faithfully and effectively for the ministry in the years before receiving a call. Finally, Rev. Danny Olinger (general secretary of the OPC Committee on Christian Education) will explain the various steps in the process toward becoming an OPC minister.
Eligible participants will generally be in late high school or early college years and must be nominated by their sessions. Sessions should use the application form provided on the Timothy Conference page at OPC.org, and must submit their nominations via email no later than January 15, 2018, to Danny Olinger (danny.olinger@opc.org). All conference costs will be covered by the SMT and the host church.
Copyright © 2018, The Orthodox Presbyterian Church. All Rights Reserved.