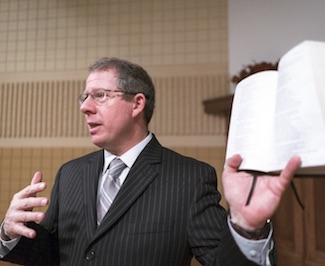 Committee on Christian Education Feature
Patricia E. Clawson
As the newest instructor of the Ministerial Training Institute of the Orthodox Presbyterian Church (MTIOPC), Dale Van Dyke believes that preaching God's Word is the ordinary means of grace God uses to grow his church.
"I am convinced that the gospel is the power of God unto salvation and the Word of God is living and dynamic," said Van Dyke. "As we simply open up that Word and proclaim that gospel—with Holy Spirit clarity and zeal—God will carry out his miraculous mission of building a church out of lost rebels!"
The church that Van Dyke pastors, Harvest OPC in Wyoming, Michigan, serves as a fine example. Since Van Dyke arrived in 1995, the congregation has grown slowly but steadily from 90 to 338 communicant members—a 375 percent growth. 
"I love to preach and I love what God does through preaching," he said. "I enjoy seeing the drama of the text and letting that drama captivate the minds and hearts of God's people. Most importantly, I've been able to consistently preach the gospel in a way that God has used to change lives."
Van Dyke will join Douglas Clawson as co-instructors of the Spring 2018 Homiletics class, which is offered by MTIOPC for experienced pastors, licentiates, and men under care of an OPC presbytery. The course is not meant to be a comprehensive "how to" course in preaching. Rather, it is designed to help a class of eight or ten men identify their gifts and weaknesses, then encourage them to grow in those areas.
"Our goal is to do all we can to encourage and strengthen and equip those who attend," said Van Dyke. "There will be some very practical instruction and some confidence-building reminders of what a great thing it is to be called as a preacher of the gospel of Jesus Christ."
Great Preaching Takes a Unique Moving
MTIOPC Director Danny Olinger believes the students will benefit from Van Dyke's "nearly quarter-century of preaching, his ability to communicate with sound theological grounding, and his ability and giftedness to help those aspiring to the gospel ministry."
The students also will profit because both instructors were trained in preaching from different institutions—Van Dyke from Westminster Seminary California and Clawson from Westminster Theological Seminary. While Van Dyke has been a longtime church pastor, Clawson has served as both a pastor and an evangelist.
"I believe that with Dale, the man you get in the pulpit is the same man who sits in your living room opening up God's Word to you and your family," said Clawson, who twice taught the course with Bill Shishko. "Dale has been used by the Lord to pastor a church that has grown a lot during his ministry. Therefore he has the breadth of experience that will be faced by the men who are pastors or preparing for the pastoral ministry."
Although he has twenty-four years of preaching under his belt, Van Dyke is not coming as someone who has figured it all out. The experience has been helpful, he said, because he's made just about every mistake. "I've learned the benefit of receiving good criticism. I've seen God use a sermon vastly above and beyond what I've put into it and seen a 'gem' fall like a lead balloon. I've learned that good preaching takes a lot of hard work and patience. There are no shortcuts. Great preaching takes a unique moving of the Spirit of God."
Some Homiletics students have been in the ministry in excess of thirty years while others have had very little pulpit time, said Clawson. "In each class, we're trying to help that individual where he is at. My personal goal for the class is that as I read and listen to their sermons, I will pick out one or two important areas that I can focus on to help the students improve."
Perhaps the biggest beneficiaries of this course, however, will be those in the pews.
"The preaching of the Word is how God communicates to his church, calling the lost to saving faith and sanctifying believers," said Clawson. "Insofar as preaching can be improved, it makes the preaching a better instrument for the Spirit's work."
MTIOPC FAQ
When do the next MTIOPC courses begin?
Classes will begin on February 5, 2018 with online assignments, then a mandatory in-person Intensive Training at Harvest OPC in Wyoming, Michigan, will be held May 15–17.
What are the classes?
Homiletics (taught by Dale Van Dyke and Douglas Clawson)
Ecclesiology (taught by A. Craig Troxel)
Form of Government (taught by Alan Strange)
How much does it cost?
Tuition is free for OPC ministers, licentiates, and men under care. OPC elders pay $50 in tuition for either the Ecclesiology or Form of Government classes. All students must also pay a $50 registration fee, which is fully refundable upon successful completion of the course. To help defray the cost of travel to Intensive Training, travel scholarships of up to $350 are available for OPC ministers, licentiates, and men under care. If necessary, an additional $100 in travel reimbursement is available if the student's session or presbytery matches that amount.
Where do I apply?
Applications are available at www.opc.org. Go to Worldwide Outreach, then Christian Education, then Ministerial Training. Click on MTIOPC.
What's the deadline?
The deadline for registration is January 31.