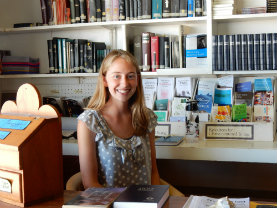 Short-Term Missions
STM Report: Pro-Life Advocacy at the Boardwalk Chapel
Janet Birkmann
Susanna Buckley is serving this summer as the Pro-Life Coordinator at the OPC's Boardwalk Chapel in Wildwood, New Jersey. A counter has been added to a corner of the Chapel where books and pamphlets are made available to visitors, and this is where volunteer staff member Susanna can be found! In the brief video linked below, Susanna explains her role and shares some of the materials designed to help her bring hope and truth to those seeking answers about abortion and life, as she presents the gospel in this context this summer.
LINK TO THE VIDEO:
Click here to link to the video at the OPC's short-term missions website, www.OPCSTM.org.
PHOTO: Susanna Buckley at the Boardwalk Chapel
FOR MORE INFO:
Visit www.boardwalkchapel.org to learn more about the Boardwalk Chapel!
Visit www.opcstm.org to learn more about short-term missions in the OPC!