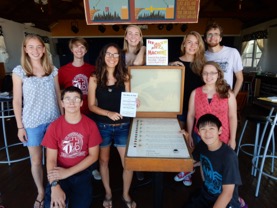 Short-Term Missions
Video Greetings from the Boardwalk Chapel
Janet Birkmann
We are pleased to present some video testimonials from members of the Volunteer Staff who served at the Boardwalk Chapel in Wildwood, NJ, during the summer of 2016. Click below to hear from staff members Mikaela, Danny, and Katrina; Music Coordinator - Sarah; Drama Coordinator - Ben; Music Intern - Megan; Evangelism Coordinator - Chris; staff members Anastasia, Gregory, and Ellisa; and friends of the Chapel - Jenny, Wilfredo, and Morielle.
PHOTO: Some members of the Boardwalk Chapel Volunteer Staff 2016
Visit www.opcstm.org for more testimonials from those who have served as short-term missionaries in the OPC!