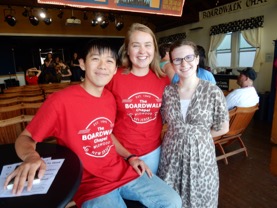 Short-Term Missions
Testimonial: Bringing the Nations to Himself: The Power of Prayer at the Boardwalk Chapel
Timothy Hsu
(Timothy Hsu of Hamilton Baptist Church in Hamilton, VA, served as the Assistant Evangelism Coordinator at the OPC's Boardwalk Chapel in Wildwood, New Jersey, during the summer of 2016.)
More than anything else, this summer at the Chapel was characterized by one word: prayer. We prayed more intentionally, regularly, spontaneously, and fervently than we did last summer or at any other time or place I have ever seen. Whether in small groups or all together, planned or spur-of-the-moment, for 30 seconds or 45 minutes at a time, during or after evangelistic conversations, for unbelievers or brothers and sisters in Christ, again and again, we prayed. My greatest prayer going into the summer was that, as Jesus said of the temple in Matthew 21:13, the Chapel staff would become a house of prayer – and I stand in awe rejoicing at how truly and abundantly the Lord answered that prayer this summer.
The beauty of this summer was not only that we prayed mightily – time and again, we saw the Lord mightily and graciously answer us. It was evident from the very first night we went evangelizing on the boardwalk: With nearly 27 people on staff, we simply could not send everybody out to evangelize all at once, so we kept back about 8-10 people to stay in prayer while the rest went out with the Gospel – and that very first night, someone prayed to receive Christ. Within a month, sixteen people had called on the name of the Lord to be saved (for context, over the entirety of last summer, we saw twelve people receive Christ); and by the end of the summer, the total number was fifty-four. Our hands were more than full trying to set up the vacationers with churches back in their hometowns and disciple the ones living locally or working in Wildwood for the summer! (One local girl, Sarah Jo, became a dear friend of the Chapel and visited often after giving her life to Jesus.) I cannot believe it is a coincidence that we cried out to the Lord to work more than ever before, and saw the harvest grow so beautifully abundant before our eyes.
Read the full article at www.opcstm.org
PHOTO: Tim Hsu with two of his co-staffers at the Boardwalk Chapel in July 2016.
Visit www.opcstm.org for more testimonials from those who have served as short-term missionaries in the OPC!
Copyright © 2018, The Orthodox Presbyterian Church. All Rights Reserved.