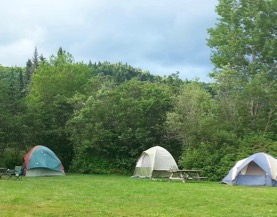 Short-Term Missions
Summer 2017: Join the English for Teens Team
Janet Birkmann
Young men and women with camping experience are needed to help lead the "English for Teens" Bible Camping Trip for French-speaking teens in Quebec this summer! The camping trip is part of the "English for Kids" summer outreach program of St-Marc's Reformed Church in Quebec City, where OP Missionary Rev. Ben Westerveld is the Pastor. The purpose of the camp is to teach English conversation and the Bible. Applicants must demonstrate a credible faith and Christian life, and have a sincere desire to make Christ known through the project. St-Marc's Camp Coordinator and bilingual translators will run the camp and follow up afterwards with the families contacted through the camp. Camp activities include fishing, canoeing, campfires, survival training, and plenty of time to discuss the Word of God.
Rev. Westerveld says, "The teens enjoy getting out of the city and spending a more intensive time together with their friends and the camp leaders. We're praying for an opportunity to truly connect with the youth and see them grow in their desire to discover and know God the Father."
Dates: August 21-25, 2017
Costs: Your expenses will include your travel to and from Quebec, and some meals. All other camping and program costs are covered.
Application Form: Click here to find a link to the 2017 Quebec Mission Application Form
Contact:
Janine Eygenraam
Missionary Associate and Team Coordinator
englishforkidsvbs.quebec@gmail.com
Rev. Ben Westerveld
OP Missionary and Pastor, St. Mark's Reformed Church, Quebec City
Visit www.opcstm.org for more opportunities for short-term service in the OPC!