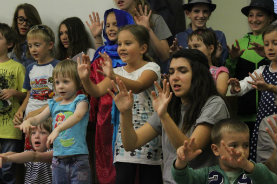 Short-Term Missions
Pray for Team Praha in Czech Republic
Janet Birkmann
Pray for the members of the short-term missions team that is currently in the Czech Republic (July 21 - August 11, 2014)! "Team Praha" has been sent by the Presbytery of Southern California's Youth Committee to conduct a 3-week ministry program.
The team leader is Pastor Zach Keele of Escondido OPC in California, assisted by his wife, Tovauh.
OP churches represented on this year's team:
Bonita OPC (Bonita, CA)
Escondido OPC (Escondido, CA)
Sovereign Grace OPC (Redlands, CA)
Harvest OPC (San Marcos, CA)
Providence OPC (Temecula, CA)
Branch of Hope OPC (Torrance, CA)
Westminster OPC (Westminster, CA)
Immanuel OPC (Bellmawr, NJ)
Ketoctin Covenant Presbyterian Church (Purcelleville, VA)
Team Praha is working on-site with Mr. and Mrs. Jerry Farnik, missionaries with over 27 years of experience in the Czech Republic, who will serve as their guides and translators for Czech culture and language.
The 3-week long ministry includes a VBS for children; an adult course taught by Rev. George Scipione; a Czech "Mountain Adventure" hiking trip focusing on friendship evangelism and discipleship with Christian and non-Christian Czech teens and young adults; and neighborhood outreach to children ("Ready, Set, Go" camp), teens and young adults in Praque, where the Farniks are seeking to plant a church.
PHOTO: Czech children with whom Team Praha worked in the past
Visit www.opcstm.org to learn more about short-term service in the OPC!
Copyright © 2018, The Orthodox Presbyterian Church. All Rights Reserved.