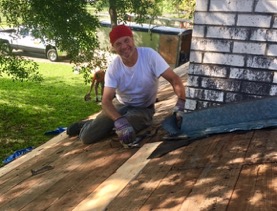 Short-Term Missions
How to Volunteer for Hurricane Relief
Janet Birkmann
Join those who are saying "yes" to volunteering for OPC Disaster Response work in Texas and Florida following Hurricanes Harvey and Irma! Stay tuned for information on Hurricane Maria relief work in Puerto Rico, where we have three OP churches. Logistical complications at present are delaying assessment and coordination of OPC relief work to be done there.
LEADERSHIP:
Denominational: David Nakhla, OPC Disaster Response Coordinator, is overseeing OPC relief efforts from the OPC Administrative Offices in Willow Grove, Pennsylvania, and visiting the relief sites as appropriate.
Regional: Regional Disaster Response Coordinators are in place in the Presbytery of the South (Houston relief site) and the Presbytery of the South (Florida relief sites).
Local: Local Site Coordinators and Volunteer Coordinators are in place.
WE NEED YOU!
Volunteers are needed in Houston (Hurricane Harvey)
Volunteers are needed in Key West (Hurricane Irma)
Skilled volunteers are needed
Unskilled volunteers are needed
Volunteers are needed now
Volunteers will be needed over the next 1-2 years
Volunteers can give whatever length of time they are able
Volunteers are responsible for their travel to the relief site in most cases
Volunteers are responsible for their own food in most cases
Volunteers will be provided with local housing
DISASTER RELIEF IS DIACONAL!
Let the deacons in your church know that you are interested in volunteering for hurricane relief! Ask if diaconal funds can be used towards your transportation and food!
GET ALL THE DETAILS!
Visit the "How to Volunteer" page at OPCDisasterResponse.org for further information regarding volunteering for hurricane relief!
PHOTO: OPC Volunteer at work on a roof in Houston, Texas, following Hurricane Harvey
Copyright © 2018, The Orthodox Presbyterian Church. All Rights Reserved.