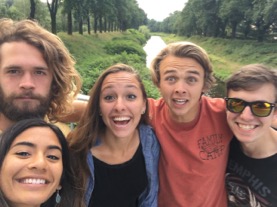 Short-Term Missions
Summer 2019: Opportunities for Short-Term Missions
Janet Birkmann
It's not too early to start making plans for summer short-term missions! Opportunities are listed below. Please share them with your church or individuals you know who are interested in participating in short-term missions. A few teams are already full or nearly full! The OPC short-term missions website at OPCSTM.org includes a page of "Current Opportunities," as well as a page of "Photos and Testimonials" from those who have gone before!
ENGLISH CAMP:
July 10-22, 2019
There are a few openings left on the 2019 English Camp Team! This popular short-term missions opportunity requires lots of prep, and training begins in February!
Click here for details
TEAM HAITI:
June 22- July 4, 2019
Click here for details
TEAM PRAHA (Czech Republic):
July 22 - August 12, 2019
Click here for details
BOARDWALK CHAPEL:
Summer Staff (all summer) or Ministry Teams (church groups) for a week.
Click here for details
EVANGELISM TRAINING (Key West, FL):
Year-Round
Click here for details
OP UGANDA MISSION:
Mid-March is the deadline to apply to serve in the summer of 2019.
Click here for details
DISASTER RESPONSE (clean up and reconstruction continues following hurricanes of 2017-2018):
MISSIONARY ASSOCIATES (work with OPC missionaries on foreign mission fields;1-2 year commitment; must raise your own support):
PHOTO: Members of Team Praha (Czech Republic) 2017
Janet Birkmann
Communications Coordinator
OPC Short-Term Missions and Disaster Response
Janet.Birkmann@opc.org
Phone: (215) 935-1007
Facebook: OPC Short-Term Missions
Website: OPCSTM.org