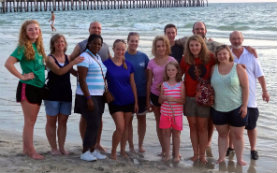 Short-Term Missions
Photo Gallery: Green Bay Visits Naples
Janet Birkmann
In July 2014, New Hope OPC (Green Bay, Wisconsin) sent a team to Naples, Florida, in response to Pastor Eric Hausler's call for a short-term mission team to come and help Naples OPC with local outreach! New Hope's Associate Pastor Paul Mourreale and the group from Green Bay canvassed neighborhoods and did service projects, including a day of service at St. Matthew's House (a faith-based non-profit ministry to the homeless and those in addiction recovery). Naples OPC was so encouraged to receive help from the team from Green Bay!
Click here to view the Photo Gallery of this trip posted at www.opcstm.org.
PHOTO: The Green Bay Team on the beach in Naples, Florida
Visit www.opcstm.org for more Photo Galleries of short-term missions that took place this summer!