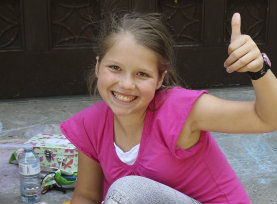 Short-Term Missions
Photo Gallery: English for Kids Camp in Quebec
Janet Birkmann
Every summer, St-Marc's Reformed Church in Québec City (Pastor: OPC Missionary Rev. Ben Westerveld), reaches out to the community through "English for Kids" Bible Camps that aim to teach the Gospel truth by meeting the interest of French-speaking children to learn English proficiently at a young age. English-speaking volunteers from sister Reformed and Presbyterian churches in North America work with a bilingual coordinator from St-Marc's to conduct the Bible camps.
In 2014, volunteers from the following OP churches partnered with volunteers from Canadian reformed churches to present three weeks of "English for Kids" camps at St-Marc's church:
First OPC (Portland, OR)
Lakeview OPC (Rockport, ME)
Immanuel OPC (Medford, NJ)
Grace OPC (Vienna, VA)
Click here to view a Photo Gallery of this camp posted at www.opcstm.org.
PHOTO: One happy camper at "English for Kids"
Visit www.opcstm.org for more Photo Galleries of short-term missions that took place this summer!
Copyright © 2019, The Orthodox Presbyterian Church. All Rights Reserved.