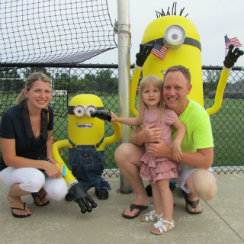 Short-Term Missions
July 4th Outreach in Kentwood, Michigan!
Janet Birkmann
Meadow Springs OPC in Kentwood, Michigan (a suburb of Grand Rapids) is planning several outreach events in conjunction with the Annual Kentwood Fourth of July Parade, Carnival and Fireworks!
The church has activites planned from Wednesday, July 2nd through Sunday, July 6, 2014, and Pastor Jerry Neumair is looking for 8–10 volunteers (individuals or a team) to come help the congregation reach the lost in their community! Volunteers will be housed by local OPC families.
Last year's parade and carnival were based on the newly released movie "Despicable Me 2." The church's tracts, floats, and T-shirts declared the good news of "Despicable Me by Jesus Set Free!" This year, a theme of "How to Train Your Dragon 2" is being considered!
Schedule of Activities:
Wed. July 2: Canvass the neighborhood with invitations to a Saturday church event
Thurs. July 3: Complete the church's parade float and prepare for Friday and Saturday events
Fri. July 4 Morning: Join in the parade, witnessing to thousands of families
Fri. July 4 Evening: Serve at the church booth at the carnival and fireworks
Sat. July 5: 9:00 am–3:00 pm: Help with church outreach in a neighborhood park
Sun. July 6: Attend morning worship at Meadow Springs OPC, Kentwood, MI
Interested individuals/groups may contact:
Pastor Jerry Neumair
Phone: 616-455-5672
Email: opcrev@comcast.net
Visit www.opcstm.org for more opportunities for short-term service in the OPC!
Copyright © 2018, The Orthodox Presbyterian Church. All Rights Reserved.