Today in OPC History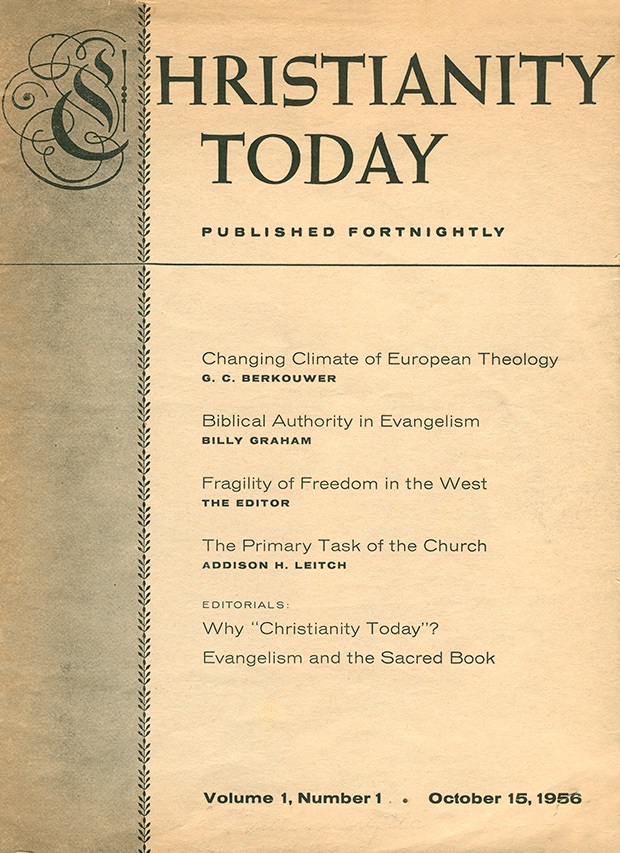 October 15
Christianity Today
On October 15, 1956, articles by G. C. Berkouwer, Billy Graham, and Addison H. Leitch graced the cover of volume one, number one, of Christianity Today.
Edited by Carl F. H. Henry, the neo-evangelical magazine borrowed its title from a journal by the same name that J. Gresham Machen helped to start in 1930 (the predecessor to the Presbyterian Guardian). Its purpose was "to express historic Christianity to the present generation," and to provide evangelical Christianity with "a clear voice, to speak with conviction and love, and to state its true position and its relevance to the world crisis." Reaction to the magazine from the Orthodox Presbyterian Church was mixed. The Presbyterian Guardian made a brief and lukewarm reference to the new "undenominational fortnightly." Westminster professor Ned B. Stonehouse agreed to serve as a contributing editor, but his colleague, E. J. Young, declined. In its first few years, Christianity Today published occasional articles from Westminster faculty, including Meredith G. Kline, John Murray, Stonehouse, Cornelius Van Til, and Young.
Also debuting in the inaugural issue was a column by Edmund P. Clowney that he would write for four years under the pen name of "Eutychus."
Copyright © 2018, The Orthodox Presbyterian Church. All Rights Reserved.