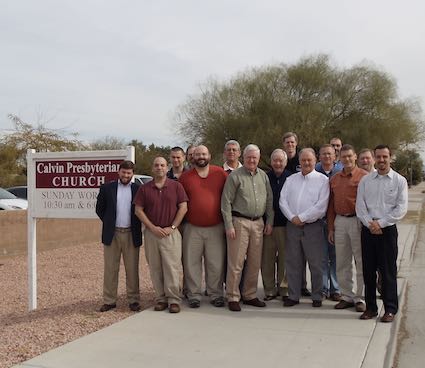 Feature
Training Church Planters
Sean Gregg
New church planters and several guests from around the country will travel to Phoenix, AZ next week to join CHMCE office staff for the annual Church Planter Training Conference.
These men will spend time praying and singing together, and they will consider various aspects of church planting. General Secretary John Shaw, a former church planter, will speak about the biblical foundations of church planting and the work and life of an organizing pastor. Associate General Secretary Al Tricarico will help participants to think through the ever-important mission-work task of identifying and developing leaders.
Former church planter Christopher Chelpka's talk on "A Sustainable Ministry" will help participants evaluate priorities, time management, and essential pastoral strategies. All pastors need to do these things well, but in the somewhat isolated situation of a church plant, they take on extra importance. Chris Hartshorn, a current church planter, will talk about developing a culture of evangelism.
In addition to the formal sessions, the conference provides a time of rich fellowship between presenters and attendees. This year's conference will have the added benefit of interacting with some of our brothers from the URC who will be meeting concurrently in Phoenix.
Pray that the Lord will grant safety for all those traveling as they fly and drive to the conference, and pray that it will be a profitable time for all who are there.