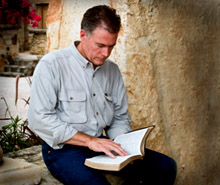 Feature
Training for Godliness
Paul's words to Timothy in 1 Timothy 4:7-8 remain vital for church officers, where he exhorts this young pastor, saying, "... train yourself for godliness; for while bodily training is of some value, godliness is of value in every way, as it holds promise for the present life and also for the life to come."
The Ministerial Training Institute of the Orthodox Presbyterian Church (MTIOPC) provides such training for church officers. Click here for registration materials for the spring 2008 term, which begins on February 1.
Spring 2008 Course Offerings
Defending the Faith (Presuppositional Apologetics), taught by Rev. Bill Dennison
Ecclesiology, taught by Rev. Craig Troxel
Pastoral Theology, taught by Rev. Bill Shishko
Reformed Worship (Liturgics), taught by Rev. Larry Wilson
Intensive Training—Wheaton, IL; Franklin Square, NY (for Pastoral Theology only)
Copyright © 2020, The Orthodox Presbyterian Church. All Rights Reserved.