Reviews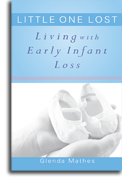 Little One Lost, Living with Early Infant Loss
Glenda Mathes
Reviewed by: Gordon Cook, John Mahaffy
Date posted: 04/28/2013
Little One Lost, Living with Early Infant Loss, by Glenda Mathes. Grandville, MI: Reformed Fellowship, 2012, 139 pages, $10.00, paper.
Click here for a review by OP pastor Gordon H. Cook, Jr..
Click here for a second review by OP pastor John W. Mahaffy.
Copyright © 2019, The Orthodox Presbyterian Church. All Rights Reserved.