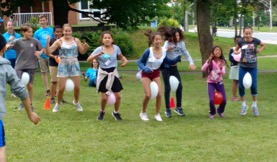 Short-Term Missions
Summer STM: English for Kids Bible Camp in Quebec
Janet Birkmann
There are two more openings to serve on a team that will lead an "English for Kids" Bible Camp this summer!
Three week-long Bible camps for kids, and a week-long Bible camping trip for teens, are held in Quebec each summer for French-speaking families who seek opportunities for their children to learn and practice speaking English.
2018 Camps:
Week 1: June 25-29, 2018 – two more team members needed
Week 2: July 2-6, 2018 – TEAM FULL
Week 3: July 9-13, 2018 – TEAM FULL
English for Teens Camping Trip – TEAM FULL
More Info:
Find more details at OPCSTM.org
Contact:
Pastor Ben Westerveld
Summer Short-Term Missions:
Visit www.opcstm.org to find more opportunities for short-term service in the OPC this summer, including:
Volunteers and Site Coordinators for disaster response in Houston
OPC Singles Ministry Team for disaster response in Houston
Work weekends at the Boardwalk Chapel
Summer staffers, church groups, and an evangelism coordinator at the Boardwalk Chapel
English Club with our missionaries in Montevideo, Uruguay
Venture Missions outreach on Indian reservation in Wisconsin
College seniors to teach English to university students in Asia
Service and outreach in Japan
Service and outreach in San Antonio, TX
Service and outreach in Naples, FL
And, year-round opportunities...
Copyright © 2019, The Orthodox Presbyterian Church. All Rights Reserved.