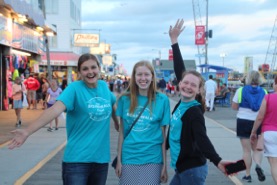 Short-Term Missions
S.T.O.R.M. Report: Summer STMs for Church Groups
Janet Birkmann
Serve the LORD with gladness! (Psalm 100:2) There's still time to make those plans for your church group to go on a short-term missions (STM) trip this summer! Please consider all the remaining opportunities for the summer, starting with those that are ideal for church groups:
They're right here in the USA!
They're in interesting, summery locales that are easy to get to!
There's much to do in terms of service and outreach!
There's much to learn from your hosts at the Boardwalk Chapel, in Texas, and in Florida!
Boardwalk Chapel: Openings for Church Groups ("Ministry Teams"): Aug. 11-18 and Aug. 18-25
Service and Outreach Week with OP Church Plant in San Antonio, TX: Summer 2018
Service and Outreach Week with OP Church in Naples, FL: Summer 2018
Evangelism Training with OPC Pastor Bill Welzien in Key West, FL: Summer 2018
Read the current S.T.O.R.M. Report Vol. 7 No. 6 May 30, 2018: Summer STMs for Church Groups
Visit www.opcstm.org to find ALL opportunities for short-term service in the OPC!
Janet Birkmann
Communications Coordinator
OPC Short-Term Missions and Disaster Response
Janet.Birkmann@opc.org
Phone: (215) 935-1007
Facebook: OPC Short-Term Missions
Website: OPCSTM.org
Copyright © 2019, The Orthodox Presbyterian Church. All Rights Reserved.