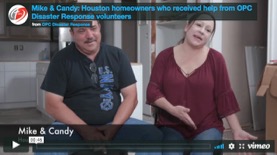 Short-Term Missions
Short Video: Moving Testimony from Houston
Janet Birkmann
Check out this 1 minute video clip (LINKED, BELOW) from one of the families helped by OPC Disaster Response volunteers in Houston. After you watch, we would love a quick reply telling us your response and connection to Disaster Response. It would really help us be more effective to hear from you.
After watching the video, I am:
A. Excited and maybe ready to go, but haven't pulled the trigger
B. Intrigued but apprehensive about going
C. Interested but can't see a way to make it work (finances, work, etc.)
D. Moved by the video, but going isn't my thing
E. Other?
VIDEO LINK:
This LINK to the VIDEO CLIP will take you away from this website. Please come back to respond after watching!
RESPOND TO DAVID:
Click Here to send your response to David Nakhla.
Thank you!
Copyright © 2019, The Orthodox Presbyterian Church. All Rights Reserved.