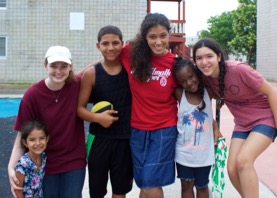 Short-Term Missions
Current Opportunities for Short-Term Missions
Janet Birkmann
It's not too early to start making plans for summer short-term missions! Opportunities are listed individually, below. Please share them with your church, or individuals you know who are interested in participating in short-term missions. There is also a direct link, below, to all opportunities at the "Current Opportunities" page at the OPC short-term missions website at OPCSTM.org. To learn more about each opportunity, you can also visit the "Photos and Testimonials" page at OPCSTM.org, too.
BOARDWALK CHAPEL: Summer Staff
Individuals are needed to serve on the evangelism, music, drama, domestic, or AV teams for the summer.
Click here for details
BOARDWALK CHAPEL: Ministry Teams
There are still a few openings for church groups to serve as Ministry Teams for a week this summer.
Click here for details
TEAM HAITI:
June 22- July 4, 2019
Click here for details
TEAM PRAHA (Czech Republic):
July 22 - August 12, 2019
Click here for details
OP UGANDA MISSION:
Mid-March is the deadline to apply to serve in the summer of 2019.
Click here for details
RP MISSIONS IN JAPAN:
OPC members are invited to apply to join three teams RP Missions is sending to Japan in the summer of 2019.
Click here for details
EVANGELISM TRAINING (Key West, FL):
Bring your church group to Key West for evangelism training and experience with OPC Pastor "Bible Bill" Welzien.
Click here for details
DISASTER RESPONSE (clean up and reconstruction continues following the hurricanes of 2017-2018):
MISSIONARY ASSOCIATES (work with OPC missionaries on foreign mission fields;1-2 year commitment; must raise your own support):
Link to all Current Opportunities at OPCSTM.org.
PHOTO: Boardwalk Chapel neighborhood outreach 2018
Janet Birkmann
Communications Coordinator
OPC Short-Term Missions and Disaster Response
Janet.Birkmann@opc.org
Phone: (215) 935-1007
Facebook: OPC Short-Term Missions
Website: OPCSTM.org
Copyright © 2019, The Orthodox Presbyterian Church. All Rights Reserved.