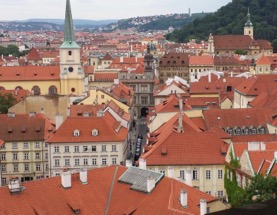 Short-Term Missions
Last Call for Team Praha 2019
Janet Birkmann
The deadline to apply to join Team Praha 2019 is March 15, 2019! Team Praha, working with missionaries Jerry and Marilyn Farnik, will spend 3 weeks in the Czech Republic (in Prague and in the countryside), leading VBS and friendship evangelism programs for children, teens, and young adults.
Team Leaders:
Team Praha's leaders will be Rev. John Shaw (General Secretary, Committee on Home Missions and Church Extension) and Hannah Knight (Anaheim Hills OPC, Anaheim, CA).
Team Member Qualifications:
Communicant member of your church, faithful service in your home church (pastoral reference required), minimum age 16, desire to share your faith in Christ; various talents: teaching, music, sports, arts and crafts, and/or skits; ability to organize and participate in VBS-style activities; good physical condition; friendly cooperation with teammates; willingness to submit to the team leaders and to Pastor and Mrs. Farnik.
Brochure, Application Instructions, and Further Info: Team Praha 2019
Visit www.opcstm.org to find more opportunities for short-term service in the OPC!
Copyright © 2019, The Orthodox Presbyterian Church. All Rights Reserved.