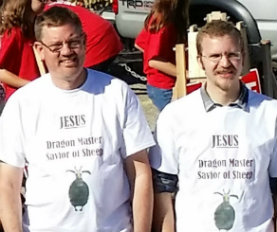 Short-Term Missions
STM Report: Creative Summer Outreach in Kentwood
Rev. Jerry Neumair
Members of nearby OP churches answered the call from Pastor Jerry Neumair (Meadow Springs Community Church, Kentwood, Michigan) for volunteers to help reach out to the community at the "Dragon Master"-themed July 4th Carnival and Parade in Kentwood, Michigan!
We received this follow-up report from Rev. Neumair:
Praise God for providing:
Volunteers from 3 Michigan OP churches:

Oakland Hills Community Church (Farmington Hills, MI)
Harvest OPC (Wyoming, MI)
Cedar OPC (Hudsonville, MI)

Amazing creativity in presenting the gospel via float, flyers, t-shirts and crafts
Fantastic weather (mid 70′s and no humidity)
The distribution of approximately 3,000 invites and gospel tracts (along with many refrigerator magnets and pocket New Testaments)
The funding of this outreach through the generosity of 2 churches and 2 families
Pray for fruit:
For follow-up on emails collected at the carnival for future events and sermon series
For families to attend the advertised series on "How to Train Your Children"
For God to move in the hearts of those who read or re-read our flyers, invites and Bibles
For a steady stream of visitors with some becoming fruitful members
PHOTO: "Jesus: Dragon Master Savior of Sheep" t-shirts at July 4th parade
Visit www.opcstm.org for more reports on short-term missions that took place this summer!
Copyright © 2019, The Orthodox Presbyterian Church. All Rights Reserved.