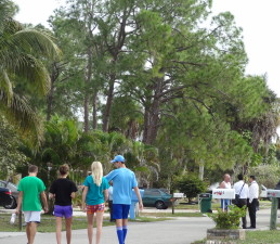 Short-Term Missions
Local Outreach in Naples, FL (Summer 2014)
Janet Birkmann
Naples Presbyterian Church (OPC) invites you to bring a youth group to Naples, Florida, in late July or early August for a short-term missions Retreat/Service Project!
Activities will include:
Canvassing neighborhoods with announcements about the church.
Spending the evening on the beach, engaging people in conversation and/or playing soccer or volleyball, and inviting them to church.
Volunteering at St. Matthews's House, a Christian ministry to addicts and the homeless.
Attending Sunday morning and evening worship at Naples OPC.
Lodging and meals:
Lodging is available in the cabins at the nearby Naples KOA.
Groups are responsible for their own meals (fire-pit/grill/kitchen available in cabins).
KOA is located across the street from a Super WalMart.
Our congregation received a great boost from a team of youth, college students, and adults that came from Ada, Michigan, to work with us during their 2014 winter break!
We welcome you to come and help us reach out to our community with the invitation: "Come visit us and you will discover Joyfully Reverent Worship and Practical, Reformed Bible Teaching!"
Contact:
Contact Pastor Eric R. Hausler to discuss the details and schedule a time for your group to visit Naples:
Email: hausler.1@opc.org
Phone: 239-234-5500
Visit www.opcstm.org for more opportunities for short-term service in the OPC!