Today in OPC History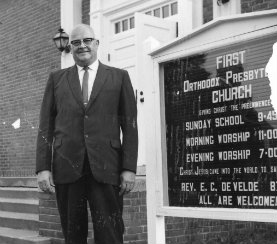 May 19
Everett C. DeVelde, Sr.
On May 19, 1906, the Rev. Everett C. DeVelde, Sr. was born at Norwood Park in Chicago. Mr. DeVelde graduated from Wheaton College in 1927 and attended Princeton Theological Seminary, where he served as president of the student body for the 1928-29 school year. Mr. DeVelde transferred to Westminster Theological Seminary and became president of the first class graduating in 1930.
Mr. DeVelde was ordained to the gospel ministry on May 18, 1930, and served as pastor of Centre Presbyterian Church in New Park, Pa. until 1936 when he became a constituting member of the First General Assembly of the Orthodox Presbyterian Church. Mr. DeVelde pastored Trinity OPC, Cincinnati (1936–1941), Covenant OPC, Vineland, New Jersey (1942–1966), and First OPC, Baltimore (1966–1981).
At the Fifth (1939) General Assembly, Mr. DeVelde put forth the name "Orthodox Presbyterian Church" as the new name for the denomination. He also developed the widely used Covenant Children's Catechumen Course in 1944. In January 1948 while serving at Covenant OPC, Vineland, Mr. DeVelde started the Faith and Life Hour on WWBZ radio, a daily twenty-five minute radio broadcast. This was in addition to the broadcasting of the Sunday morning services which had started the previous year.
Mr. DeVelde was called home to the Lord in Glory on August 20, 1991.
Copyright © 2019, The Orthodox Presbyterian Church. All Rights Reserved.