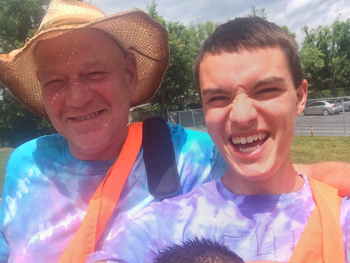 Feature
Nothing Can Stop His Kingdom
Jordan Francoeur
The following testimonial was received from a young man from the First Church of Merrimack (OPC), Merrimack, New Hampshire. He was part of the large short-term missions team from the Presbytery of New York and New England that traveled to Quebec in July 2016 to run the annual English for Kids Bible Camp at a church in St-Georges de Beauce.
This July marked my third year volunteering as a staff member at the English for Kids Bible Camp in St-Georges de Beauce, Quebec. I have been blessed immensely by the Lord in being able to help this ministry. What I learned most powerfully during this year's camp program was strong leadership skills with the Father's love as my guide and listening very intently to the Holy Spirit's direction in every moment, especially when I was teaching my class on "The Pilgrim's Progress."
On the last day, which was when Christian and his friend Helper crossed the river whereupon they both beheld the Celestial City, I was most boldly able to proclaim God's plan of Salvation. I asked my children this question: "Where do Christians go when they die?" Immediately, many of the children (a majority of my students being Seventh Day Adventists), replied "Heaven!" But one little girl from my class replied with doubt and despair written in the depths of her eyes: "Purgatory." A word with heavy weight to it.
My heart ached and was filled with joy all in one moment as I stood before the children. God was giving me such an opportune moment during my classroom session to emphasize what the way unto Salvation is: which is by God's grace through our faith in Him. This little girl came from an extremely strict, Catholic, religious sect where she was taught by her parents and grandparents that in order to even hope of entering God's Kingdom she must work, work, and work with folded hands, on her knees.
Many of the children were puzzled or completely oblivious because most of them had never even heard of Purgatory. I knelt down to the kids' level to gaze at all 11 of them. With the Holy Spirit laying on my heart just what He desired I say to these children, I spoke these words: "It is only by God's everlasting grace through faith in Jesus Christ who is Lord both now and forever that I, Grace (class assistant), Rejean (translator), or any of you can be saved (Ephesians 2:8, Romans 5:1-2)". I told them "Your works can't earn you your salvation. And there's no such place as Purgatory, it does not exist, never has, and never will."
I pleaded with each of the children in that moment. I prayed to the Father on His throne that in this last moment He had given me in our final classroom session, that if they only took away one message, one thing that week, that it would be an understanding of who God is in all His ways. And that they would truly understand that a person can only be saved from the City of Destruction through Jesus Christ.
Even on days I felt I was hiking up a Hill of Difficulty and exhausted mentally from lack of sleep, I wanted with all that was within me for them to see Him so clearly, so powerfully that upon their departure at the end of the day, they would all (if they hadn't already) trust in the Lord Jesus as Savior. I prayed that they would see that there is nothing that they themselves can do to earn Salvation but that it is only by the blood of the Lamb who was slain on Mount Calvary that they can be saved from their sins. I explained that no one in any of the classrooms or in the entire world had to toil in vain because trusting upon Jesus can free us from such a burden. I prayed in that moment. I continue to pray that they would find freedom in Jesus. I pray they will fulfill a purpose driven life of service for the Kingdom. And I pray with all my heart that they would all find sweet rest in the reality that God would accept each of them fully and freely if they simply placed their trust in Him.
Because, this I know: The Lord does not accept us as His people because of any perfection or good performance on our part (Titus 3:5). His righteousness is what sets us free. Jesus who died on the Cross did not die in vain; no, he died because He knew we could never pay the price, so He gave all of Himself that we may have life and then He rose again, defeating death. Now all may find forgiveness at the foot of the Cross and that's my prayer for every single camper who has attended English for Kids. Each child can cling to Christ and rest in Him completely knowing it's only in what He has done that they can be saved. Praise the Lord always for the time He's given his people to proclaim the coming Kingdom of our Lord! He is worthy to receive all honor and praise.
Although I am once again gone from that place of ministry for the time being, I was blessed to be in the position of teacher to those children who taught me much themselves. God is going to see new life sown, watered, and grown as He wills. Nothing can stop His kingdom, for His Word will be heard wherever and to whomever He wishes, and work its way powerfully into people's lives throughout the whole wide world.
May we all proclaim "the kingdom of God and [teach] about the Lord Jesus Christ with all boldness and without hindrance" (Acts 28:31). Amen.
PHOTO: Jordan, right, with Rejean, who served as the translator in Jordan's class
Visit www.opcstm.org for more testimonials from those who have served as short-term missionaries in the OPC!