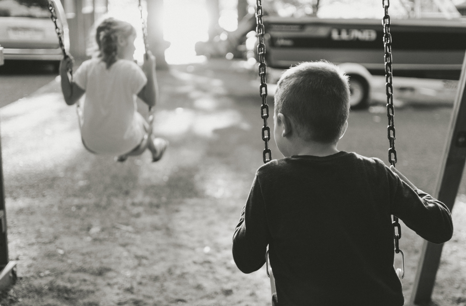 Feature
From Neighbors to Family in Christ
Home Missions
It was a seemingly ordinary day at the park for Josh McKamy, church planter at Covenant OPC in Chambersburg, PA, but God was at work to turn the ordinary into something better, and more beautiful. Three years ago in the summer of 2015, Josh and Kristen McKamy and their children were spending the afternoon at a park in their neighborhood. Another neighborhood family was there, and the McKamys easily struck up a conversation. This was the beginning of a friendship, which grew over time as God's plan unfolded.
At the start, Josh shares, "We simply focused on building our friendship with them and loving them as we got to know them." After about a year, there were natural opportunities to talk about church and about Christianity. "After a couple years, they were looking for a church and we invited them. They began attending in 2017, and ultimately joined in 2018 after a year of regular attendance!" In fact, they became the first full family to join Covenant by profession of faith and baptism, which was quite an exciting milestone in the life of this mission work.
Upon reflecting on the slow unfolding of their story, Josh says, "It was certainly an example that the significant thing to focus on in outreach is simply Jesus' command to love our neighbor. Thinking of our neighbors as people to love and serve, while keeping eyes open to how God might be working in their life to draw them to church or into conversations about Christianity, seems to me to be among the most fruitful forms of evangelism." He further encourages others who want to do the same thing, "God is at work in the lives of people around you; as you get to know them and love them, God will provide opportunities to talk about spiritual things and invite them to church. With this approach, even if they have no interest at the time in attending church, you still have a relationship in which you can show forth the love of Christ to them!"
Copyright © 2019, The Orthodox Presbyterian Church. All Rights Reserved.