New Horizons
2010 Timothy Conference
David Winslow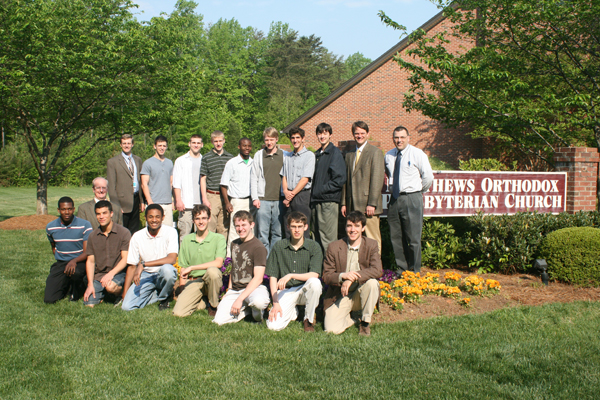 "Please accept my deepest thanks for the wonderful conference and relay them to all who were involved. I can't tell you how thrilled I was to hear my son try to relay everything he came away with on our trip home from the airport. He gained so much from both the formal and informal talks, as well as his fellowship with young men who have a desire to please the Lord. The conference definitely rekindled his desire for godliness in his own life and his pursuit of some kind of mission work."
And so we relay the thanks of one mother, speaking on behalf of the other parents, to everyone who supported the 2010 Timothy Conference with their prayers and contributions to Worldwide Outreach. Through your love and concern for the work of the whole church, fourteen young Orthodox Presbyterians were able to be present for two days of conference lectures at Greenville Seminary in South Carolina and Matthews OPC in North Carolina. Particular love and effort came to the fore from those who provided food and hospitality for the young men: Tony and Kathleen Curto, Jeff and Jennifer Cleveland, Mrs. Herma DeBoer and her daughter Katelyn, and pastoral intern Joby Fowler. Dinner and devotions in the "great hall" of the Cleveland home will be a special conference memory.
Each of the five conference speakers had something special to impart to our conference attendees regarding the nature and proper preparation for gospel ministry in the OPC, whether as a pastor, a teacher, or an evangelist.
Before letting the guys go home, Danny Olinger requires them to submit a short paper summarizing what they are "taking away" from the conference. We who organize the conference are pleased and encouraged by what we read. But, as is obvious from the quote above, there is too much to put in a brief paper. And in fact, these sons of the church are living letters, the result of the Spirit's work in applying faithful parental and pastoral nurture. It is our prayer that there be much more of the Spirit's writing yet to be done in and through these young men as they take their places of service in the church.