New Horizons
November, 2005: Thanks Be to God - Thank Offering 2005
Thanks Be to God for His Inexpressible Gift
by Danny E. Olinger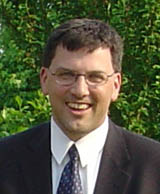 The theme of the Thank Offering this year comes from 2 Corinthians 9:15, where Paul exclaims, "Thanks be to God for his inexpressible gift!" His gift is the gift of his Son, the Lord Jesus Christ. The Son was rich, yet for our sakes he became poor, so that we by his poverty might become rich. God's gift of his Son is not only our salvation, but also the foundation for our giving and service to others. This leads Paul to praise and thank God.
The Corinthians had begun collecting money for needy believers in Jerusalem (1 Cor. 16:1-4). The purpose of the collection was both to honor the Lord and to show eagerness in helping brethren in need (2 Cor. 8:19). Despite an enthusiastic start, however, the Corinthians were now lagging in their giving. Seeing their inconsistency, Paul sends Titus and an unnamed brother ahead to them. Through those emissaries, Paul urges them to be ready with the offering, so that his boasting to others in this matter will not be in vain (9:3). Paul also encourages them to give generously and cheerfully as those who have experienced God's generous and cheerful gift. Read more
Turning Points in American Presbyterian History
Part 10: 1936: A Continuing Presbyterian Church
by D. G. Hart and John R. Muether
"On Thursday, June 11, 1936, the hopes of many long years were realized. We became members, at last, of a true Presbyterian Church; we recovered, at last, the blessing of true Christian fellowship. What a joyous moment it was! How the long years of struggle seemed to sink into nothingness compared with the peace and joy that filled our hearts!"
With those words, J. Gresham Machen announced the formation of the Presbyterian Church of America in the June 22, 1936, issue of the Presbyterian Guardian. (The church's name was changed to the Orthodox Presbyterian Church in 1939.) Guardian readers had followed the progress of the Presbyterian conflict during the previous dozen years: The liberal Auburn Affirmation of 1924 was vindicated by the Special Commission of 1925. Princeton Seminary was reorganized and Westminster Seminary was founded in 1929. The Independent Board for Presbyterian Foreign Missions was formed in 1933, and Machen and his associates were tried in 1934 for their involvement with it. The 1936 General Assembly denied his appeal and defrocked him and other ministers. Read more
Helps for Worship #2: The Principles of Public Worship (Part 1)
by William Shishko
1. Since the Holy Scriptures are the only infallible rule of faith and practice, the principles of public worship must be derived from the Bible, and from no other source.
2. A service of public worship is not merely a gathering of God's children with each other but before all else a meeting of the triune God with his chosen people. God is present in public worship not only by virtue of the divine omnipresence but, much more intimately, as the faithful covenant Savior. The Lord Jesus Christ said: "Where two or three are gathered together in my name, there am I in the midst of them." Read more