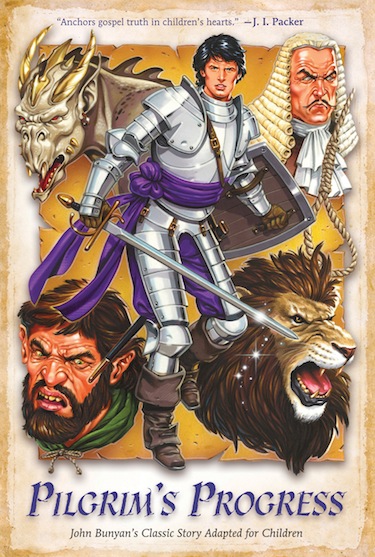 Committee on Christian Education Feature
Mark L. Lowrey, Jr.
Why are we producing a child's version of The Pilgrim's Progress, the second-most widely read book of all time? Did we really expect children to understand this allegory or even be interested in it? What about the seventeenth-century vocabulary and strange names of characters?
At Great Commission Publications, we considered these questions and many more as we responded to requests to produce a curriculum to teach children the timeless biblical truths in John Bunyan's The Pilgrim's Progress. But if we were going to do so, it would have to teach children in an age-appropriate manner in such a way that, as they got older, it would not have to be "untaught."
We were committed to keeping the story true to Bunyan's original, so if it were read later in life, it would not seem like a different story. GCP did not want the storybook to be like a movie that is nothing like the book.
So this storybook had to be true to the original, but also written at a child's level, specifically ages 6 to 12. And the curriculum had to explain to young minds the wonderful biblical truths that Bunyan was teaching with his story. As young readers grow older and read the original, they will know the story line, but they will also be able to understand the details, depth, and truths of the scriptural analogies in a deeper and more profound manner.
What can a child learn from Pilgrim's Progress? Our prayer is that your children—those in your home, families, church, and communities—will gain a deeper understanding of:
who Christ is and what the gospel is,
the necessity of God's Word, the Holy Spirit, and other believers for teaching and encouragement,
what a true Christian is,
the Christian life as a pilgrim's journey, with ups and downs, distractions, difficulties, and even feelings of being cut off from God as one presses toward the grand end, and
insight into the heart and character of genuine Christians.
These truths not only have significant implications for children now, but also will impact them as they grow in their faith as teens and into adulthood.
The story helps children see that it is necessary to know God's truth in order to know how to respond to others and various situations. They will travel with Christian on his journey and see the various challenges that he faces, while following along on the illustrated map on the inside front cover of the book. Each chapter opens with a full-page illustration to assist children in understanding the major theme and emphasis of that chapter. Artwork on practically every page will help them grasp unfamiliar character names and qualities. For example, Vain Confidence, a man who tries to lead Christian off the narrow path, is excellently illustrated as a man who exudes false hope.
A chapter-by-chapter glossary further helps children and parents by explaining unfamiliar words and analogies. This child-friendly aid turns the characters of the story into someone they know, such as Obstinate, someone who is stubborn or unwilling to change, and Pliable, a person easily bent or influenced, who only wants a gospel that makes him happy.
The 13-week curriculum anticipated for fall 2014 will build on each chapter of the book. Each week a reading of a chapter is followed by a teaching time. Then, through individual and group work, children will review and reinforce their understanding of God's truths. This time is critical in relating Bible truths to living out their faith.
May this generation join with others who read The Pilgrim's Progress more than once in their lifetime. Charles Spurgeon is said to have read it more than 100 times and said, "Next to the Bible, the book I value most is John Bunyan's Pilgrim's Progress."
This edition contains thirteen chapters, with glossary and index. There are over fifty stunning, original illustrations, and a full-color map of Christian's journey. This treasured keepsake makes a great gift for children and grandchildren. It is a 112-page hardcover with dust jacket (6 x 9 inches).
A free sample chapter and introduction are available at the website www.childrenspilgrimsprogress.org. There is a special offer for New Horizons readers until December 31, 2013: two books for 25% off OR three or more books for 25% off plus free shipping (books regularly $19.95). These offers are available only by phone at 800-695-3387.
Copyright © 2018, The Orthodox Presbyterian Church. All Rights Reserved.