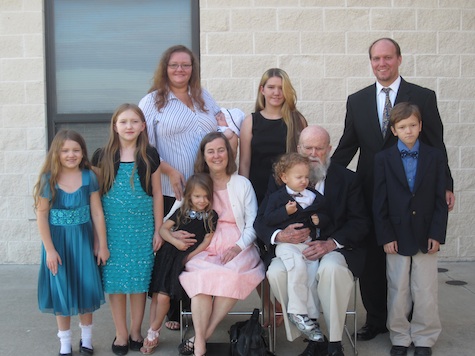 Committee on Christian Education Feature
Patricia E. Clawson
A book that Glen Clary read a decade ago in seminary first sparked his interest in Reformed worship. This spring, Clary will share what has become his passion for Reformed worship as the newest instructor for the Ministerial Training Institute of the Orthodox Presbyterian Church. MTIOPC provides seminary-quality courses for pastors, men who are licensed to preach, those under care of presbyteries, and elders. The courses are designed to help these men enhance their ministries in the OPC. Clary is the newest faculty member of MTIOPC, which is overseen by the Committee on Christian Education through its Subcommittee on Ministerial Training.
As a student at Westminster Theological Seminary, Clary read Worship Reformed according to Scripture, by Hughes Oliphant Old. "The book fascinated me, and kindled a desire in me to dig deeper into the subject of Reformed worship," he said. While leading worship as pastor of Immanuel OPC in West Collingswood, New Jersey, he became more aware of the central role it plays in the pastoral ministry. When the OPC's Directory for the Public Worship of God was being revised, he was exposed to its riches while taking Larry Wilson's MTIOPC class on Reformed worship—the one he will now be teaching. Questions about worship prompted him to contact and eventually meet weekly with Dr. Old. This led him to pursue a Doctor of Ministry under Dr. Old at the Institute for Reformed Worship at Erskine Seminary. He is currently writing his dissertation while serving as associate pastor of Providence Presbyterian Church in Pflugerville, Texas.
Students who enroll in Clary's Spring 2015 course should gain a deeper understanding of the biblical and theological foundations and history of Reformed worship. "This will help equip them to plan services of worship and lead their congregations in worship that is in accordance with Scripture and our denominational standards," said Clary. "I have seen firsthand how this can transform the nature of a congregation's worship, and have seen congregations grow in their desire to worship the Lord with reverence and awe."
This course will equip pastors in ways not often offered in seminary. While seminary professors teach how to interpret and proclaim Scripture and the theology of the sacraments, they teach far less about how reading Scripture and preaching is an act of worship, how to hold baptismal or Communion services, the role of psalmody or hymnody in worship, or emphasize prayer, according to Clary.
"There is a tremendous need for serious study of Christian worship in the Reformed church, and this class is a good place to start," said Clary. "It will benefit seasoned ministers who may still be wrestling with some issues regarding Reformed worship or who may be facing difficult situations in their own congregations in matters of worship." Elders who help oversee worship and often help to establish the worship practices in the local church also will benefit from the course.
When the class starts in February, students will have reading and a brief written assignment each week until the three-day Intensive Training in May. "This is crucial preparatory work for the intensive training class," said Clary. "The more the students are able to read and digest the material prior to intensive training, the better it will be in terms of class discussion."
For Clary, "The chief end of the church is to serve the glory of God by worshipping him in Spirit and truth. Nothing can be more important than the worship of God."
Photo caption: Mary and Hughes Oliphant Old (seated) with (from the left): Talitha, Gracie, Cathe (mom), Sophia, Josie (baby), Ariel, Jesse, Glen, and Samuel Clary.