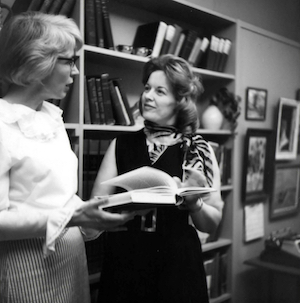 Committee on Christian Education Feature
Patricia E. Clawson
During the Orthodox Presbyterian Church's second twenty-five years, two godly women helped the Committee on Christian Education (CCE) launch two essential endeavors: developing its own Sunday school curriculum and ushering in the denominational magazine, New Horizons in the Orthodox Presbyterian Church.
Although Penny Pappas and Ali Knudsen both received their heavenly rest within five days of each other in March, their service to the OPC still benefits those in the pews today. Utilizing her teaching skills, creativity, and exuberance, Penny wrote some of the first Sunday school materials published by the CCE and taught the teachers how to implement the lessons in their classes. Ali Knudsen helped to springboard New Horizons and was its proofreader for twenty-six years.
At the OPC's Second General Assembly in 1936, commissioners declared that the unbelief in their former denomination was partly due "to a lack of a consistent system of Christian education" and urged the assembly to develop a comprehensive Christian Education program.[1] In answer, the CCE in the 1940s mimeographed its own Sunday school and summer Bible school materials for congregations. In 1948, the CCE employed Pastor Lewis Grotenhuis to operate a printing press in his home that churned out primary-age Sunday school lessons written by Betty Colburn, the CCE office secretary. Pastor Edmund Clowney was hired in 1950 to author a summer Bible school curriculum, which was then published under the name Great Commission Publications (GCP).
When Robley Johnston became CCE general secretary in 1955, he ensured that the Sunday school material was theologically sound, effectively taught, and attractively published. By 1962, Penny Pappas was among the four writers and editors hired to produce Sunday school materials for GCP.
Penny Pappas
Before writing a word, Penny, who was new to the Reformed faith, spent the summer reading Calvin, Berkhof, and Machen. GCP published her material for primary-aged children in 1964, and for juniors in 1971. "Loving the Savior," part of Pappas's primary material, featured a story, a worksheet, and a sixty-page teacher's manual that included lesson content as well as practical teaching tips.[2]
Within twelve years, Sunday school material was published for all ages. In 1973, 435 of the 558 churches using GCP materials were non-OP.[3] To increase their financial and customer base, GCP became a joint venture of the OPC and the Presbyterian Church in America in 1975.
To help Sunday school teachers effectively use the materials, Penny became one of three regional teacher trainers, organized by GCP and the Christian Education Committee of the PCA. For twelve years, she conducted workshops to train teachers throughout the Northeast.
Penny was the first one to promote the use multiracial pictures in GCP's materials. "If we want our material to be welcomed by a wide spectrum of people across America, we have to depict these people," she said.[4] Penny retired from GCP in 1999, at the age of 77, after laying the groundwork for the effective teaching of children.
Ali Knudsen
Before 1980, the Committees on Foreign Missions, Home Missions, Christian Education, and Diaconal Ministries each sent their own publications to OP churches and homes. The OPC's General Assembly in 1979 voted that those publications should cease and that there should be a joint denominational magazine. The first issue of New Horizons arrived at members' homes in January 1980.
Ali Knudsen became office secretary for CCE general secretary Roger Schmurr in January 1980—just in time to work on the third issue. The New Horizons production assistant for fifteen years, Ali corresponded with writers, proofread the articles before they went to the typesetter, and managed a list of thousands of mailing addresses.
Although Ali was born and raised in the Netherlands and English was her second language, she had a superb grasp of English and served as proofreader until she retired at the age of 75. "Readers of New Horizons today probably have no idea of the significance of what was accomplished," said Schmurr. "Ali was a significant part of that effort."[5]
Eighty years after the 1936 General Assembly urged the development of a CCE program to fight unbelief, the Committee on Christian Education and Great Commission Publications continue to serve the educational needs of the OPC, thanks in part to the solid foundation laid by Penny and Ali.
Endnotes
[1] The Orthodox Presbyterian Church 1936–1986, p. 35.
[2] "Great Commission Primary Materials off the Press," Presbyterian Guardian, November 1964, p. 151.
[3] Thomas R. Patete, "By the Grace of God It Was Done!" in Confident of Better Things, pp. 291–92.
[4] Amy Joy, "Helen 'Penny' Pappas," Renaissance Woman," soon to be published in Choosing the Good Portion: Women in the OPC.
[5] Gabriela Reason, "Faithful and Effective Service in the OPC Offices," soon to be published in Choosing the Good Portion.
Copyright © 2016, The Orthodox Presbyterian Church. All Rights Reserved.