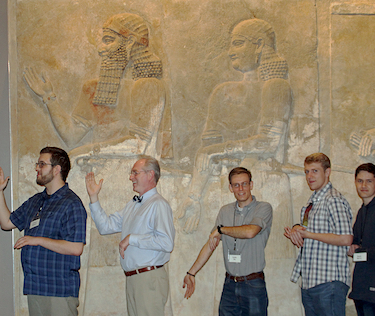 Committee on Christian Education Feature
Danny E. Olinger
On April 9, 2008, the day before the first OPC Timothy Conference, David Winslow and his wife, Susan, worked around the clock to make sure that the fourteen young men hoping to attend would not miss the event due to over one thousand cancelled airplane flights that day. On April 12 of this year, the Winslows were again working with airline representatives so that the twelve young men who had attended the 2018 conference would not be stranded in snowy Chicago.
These challenges were a wonderful symmetry of service to mark the Winslows' last conference before retirement. Attendee Jared Foy from Trinity OPC in Grants Pass, Oregon, expressed thankfulness for the "singular devotion" of the Winslows in assisting him and the rest of the 2018 attendees with all the logistical issues involved.
The Winslows' service has not been the only constant through the eleven Timothy Conferences. Another has been the Lord's grace in raising up a generation of men who love him and his church. When the Committee on Christian Education first announced in December 2007 that it was planning to hold a conference "to assist the OPC to be faithful in her calling to entrust the gospel to the next generation," they hoped for a total of ten young men willing to attend. Not only did thirty young men attend the first Timothy Conference (split into two sessions), but since its beginning a total of 173 men have come.
OPC ministers (over thirty in total) have instructed these men on the ministerial office of the Word, the internal and external call to the ministry, seminary training, the process of becoming a minister in the OPC, and how to prepare spiritually for the ministry.
The sessions of ninety-seven OP churches have recommended young men later approved for the conference. Harvest in Wyoming, Michigan, has sent seven men, and Grace in Sewickley, Pennsylvania, has sent five. Churches that have sent four men include Covenant in Sinking Spring, Pennsylvania; Grace in Vienna, Virginia; Redeemer in Beavercreek, Ohio; and Grace in Columbus, Ohio. Churches in the presbyteries of the Midwest, Ohio, and Mid-Atlantic have sent the most participants with twenty-two, twenty-one, and sixteen men respectively. 
Close to one-third of Timothy Conference attendees have been the sons or grandsons of OP officers. Just as many had individually come to the OPC while attending college or were from families that had been members of OP congregations for less than five years.
Five Timothy Conference attendees have been ordained to gospel ministry in the OPC: Caleb Smith, associate pastor at Calvary in Glenside, Pennsylvania; Adrian Crum, associate pastor at Reformation Fellowship in Roseville, California; Jonathan Cruse, pastor at Community Presbyterian in Kalamazoo, Michigan; Zachary Simmons, pastor at Resurrection in State College, Pennsylvania; and Michael Spangler, associate pastor at Providence in Greensboro, North Carolina. Alexander Patocs has been ordained and installed as a deacon at Calvin OPC in Phoenix, Arizona.
Timothy Conference alumni who are under care of a presbytery or are licensed and have served an OPC ministerial internship include Ben Gordon (2008), John Holloway (2008), Seth Dorman (2009), David Bonner (2010), Aijalon Church (2011), Elijah De Jong (2012), Jeremiah Dickinson (2012), Benjamin Woodring (2012), Tyler Detrick (2013), Zachary Siggins (2013), Benjamin Ward (2014), and David Carnes (2014).
In addition, some alumni are currently attending seminary or are enrolled for seminary classes in the upcoming school year, such as James Stafford (2010), Joseph Pollard (2010), Christopher Barnard (2012), and Lawrence Gale (2014). Other Timothy Conference participants such as Matthew Walker (2008), David Kuhfuss (2008), and Ethan Chong (2012) have served as missionary associates in the OPC. 
Four seminaries have graciously opened their doors to host the conference: Westminster Seminary California, Mid-America Reformed Seminary, Greenville Presbyterian Theological Seminary, and Westminster Theological Seminary.
Each year, local OP churches host the attendees, providing both meals and help with transportation. The list includes Harvest in San Marcos, California; Escondido in Escondido, California; Providence in Temecula, California; Matthews in Matthews, North Carolina; Calvary in Glenside, Pennsylvania; Covenant in Orland Park, Illinois; New Covenant Community in Joliet, Illinois; and Bethel in Wheaton, Illinois.
On the extracurricular day of the conference, attendees have surfed in the Pacific Ocean, toured historic Presbyterian landmarks in Philadelphia, and visited the Art Institute of Chicago. At the 2018 conference, the men received a specialized tour of the Oriental Institute of the University of Chicago led by Shawn Goodwin, a member at Bethel in Wheaton.
In the Words of the Attendees
Patrick Waggoner, Nathan Moelker, Micah Shaw, and Caleb Frahm taking notes at the conference
Many men who attend the Timothy Conference are not sure about God's calling in their lives but are excited to learn more about the Word of God and to have fellowship with others their age. Although ministry had crossed the mind of 2018 attendee Caleb Frahm (Covenant OPC, San Jose, California), he had never felt a strong calling to be pastor. At the conference, he said, "I found a group of individuals in the same position I found myself, curious about the calling God may have for my life …. The conference convicted me to utilize the opportunities I have at church to serve, to seek mentorship from my pastors, and to learn Scripture and theology."
The best part about the Timothy Conference, according to Marius Du Plessis (Ketoctin Covenant Presbyterian, Purcellville, Virginia), is "being in the company of godly young and older men who love the Lord and are ready to serve him wherever that may be."
The author is editor of New Horizons.
Copyright © 2018, The Orthodox Presbyterian Church. All Rights Reserved.