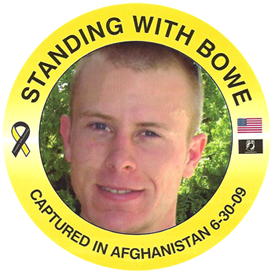 Feature
Pray for Bowe Bergdahl and his family
This text was read to the 79th General Assembly by the OPC Standing Committee on Chaplains and Military Personnel 8 June 2012 with permission of the Bergdahl family:
"SGT Bowe Bergdahl, US ARMY, who is currently in the hands of the enemy and having served in the theater of Afghanistan (officially listed as missing/captured), is a covenant son of the OPC.  He was captured three years ago the last day of this month (on 30 June 2009). His family has, in recent days, determined to break the public silence they believed was of most benefit to Bowe until this time, in order to broaden the word of Bowe's status and in order that God's people would pray and the nation at large would be more aware of his plight.
"Please pray fervently that our always-gracious God, who has allowed the events of the last three years to take place, would grant Bowe the grace to endure, bind up any wounds he might have, make provision for his health and substance, and grant him the peace of God that passes all understanding and keep his mind and soul fixed on the mercies of Christ as the one who will never leave him nor forsake him.  Please pray that there may be quickly a "way of escape" provided by our gracious God so that Bowe might return to his family and the freedom of the land he has served to defend.  Pray that if he has not done so that he will truly become right with God.
"Pray fervently for his family that God would grant them peace in the midst of trial, and grant all of them much grace and wisdom as they deal with our government at various levels. Pray that God would encourage them daily knowing the salvation of the Lord for his own.  Pray that they will have peace in resting and trusting in Christ.
"Give thanks to God, that to the best of our knowledge, Bowe is alive and probably in reasonable health.  Give thanks to God for the sustaining grace, afforded at His hand, to the family. Give thanks to God for His people who have come together to support the Bergdahl family with prayers and visible acts of love."