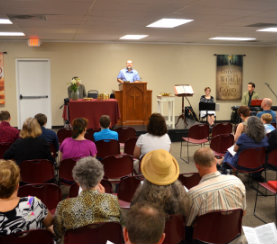 Feature
A Rising Tide in the River City
Sean Gregg
What do a hotel, a Seventh Day Adventist auditorium, a restaurant, and college classroom have in common? They're all locations where San Antonio Reformed Church met for worship in the last four years. The congregation recently moved into its sixth location, a 2,500 square foot strip mall storefront.
There have been various reasons for all the moves –The Seventh Day Adventist congregation decided to stop leasing space to other groups. The restaurant allowed smoking, which caused breathing problems for several of those who gathered for worship. The college wasn't ideally located. All were available for only a few hours a week. The latest move, however, was intentional.
In November, the overseeing session agreed that it was a good idea to look for a more permanent space in North Central San Antonio. Realtors were not able to find anything suitable, and they suggested that Pastor Moody drive around the area to look for available spaces. When he did, he came across the current space. Even though it is near two major highways, which makes it readily available to much of the city, it rents for about half of the area's going rate.
The new facility is also in the heart of the area that the congregation hopes to reach, and it is centrally located for the current families. Both Randolph Air Force Base and the Army's Fort Sam Houston are located within about 15 minutes.
A three-year lease gives the congregation its own space for the first time. Pastor Moody is happy to have a multi-year lease, as he has spent more time than he'd like looking meeting places over the last few years. The rent is about 25% more than the last facility, which the congregation could use four hours a week.
The property owner took care of the major renovation work including demolition, and building new walls. Members of the congregation worked to get ceiling tiles installed and painting done before having new carpet installed. A local PCA elder who is a lawyer volunteered his time to help negotiate the lease.
As with many renovations, there were a few delays. Despite everyone's best efforts to be in the building by March 15, San Antonio Reformed held joint worship services with her mother church, Grace OPC for two weeks before they were able to get their certificate of occupancy and move into the new space. They are now making good use of the building God has provided for them.
Pastor Moody has moved his office from his home into the new space. There is also a nursery in the new building. Pastor Moody also sees the building as giving a sense of permanence, helping visitors see that the church is here to stay.
Several have recently joined the work, and a few families moving to the area have expressed interest in joining San Antonio Reformed Church, but there has been a lack of local visitors lately. Pray that outreach efforts, including a mailing going door-to-door to introduce the congregation to her new neighbors, will bear fruit. Members from Providence Presbyterian Church in Pflugerville, TX are preparing to go to San Antonio to help with vacation Bible school. Pray that this too will be a way to reach new neighbors.
Pastor Moody, also a karate instructor, plans to use the building for classes of the Christian Karate Academy of San Antonio. He hopes that this will be one more way to get community people in the door.
As presbytery and denominational financial aid drop according to schedule, local giving has increased in recent months. Pray that God will continue to provide financially, and that he will continue to build his church in North Central San Antonio.