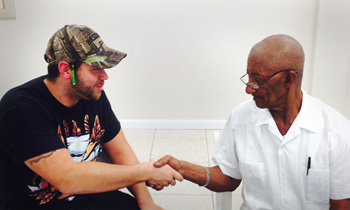 Feature
Outreach
Sean Gregg
Summer is a busy time for outreach efforts. Across the country church planters, congregation members, and short-term missions teams from established congregations have been putting on VBS programs, staffing booths at county fairs, knocking on doors, even cleaning neighbors' cars and windows in an effort to get to know the people around them.
Take a look at what's been going on and pray that these efforts will bear fruit.
Andover, Minnesota
A team of about 25 young people from Autumn Ridge Church in Rochester, Minnesota, assisted Immanuel OPC for the second year in a row. They washed cars on a Monday evening, and distributed 650 flyers the next day. The congregation is also using a service to send out flyers to new residents. They will then find which new residents live near members who will deliver information about the church along with a homemade treat.
Carson, California
Grace OPC invites neighbors to regular movie nights held outside on their property. Pastor Josh Lyon has also been able to get to know some young people from the neighborhood who come by to play pick-up basketball games at the church's outdoor hoop. Members of the congregation gather on Sunday evening and head out to minister to the many homeless people near the church. As they talk with people, they hand out bags with toiletries, socks, and other needed items.
Fargo, North Dakota
Pastor Greg Hoadley made welcome packets to hang on the doorknobs of the houses surrounding Grace OPC's rented space in Fargo, North Dakota. The packets included the new OPC brochure Christ Proclaims a Better Way, a letter from Pastor Hoadley, and his business card. He is also developing relationships with International students at nearby North Dakota State University. He recently began a Bible study on the topic of dating, and several young adults from outside the congregation have attended.
Grand Rapids, Michigan
Last summer's Bible camp went so well that this year when friends from New City Fellowship in Chattanooga, Tennessee, came back to help, they ran two camps. About 30 young people made up the team that ministered to more than 40 children from the neighborhoods around the church. The week ended with a hot dog cookout, which provided the opportunity to speak with even more neighbors. Members of the congregation have been conducting prayer walks in the community. Opportunities also have recently opened up to present the gospel at a local nursing home as well as the county jail.
Lander, Wyoming
Phil Strong's sermons are posted on Facebook and Sermon Audio and are aired on a local radio station. Members handed out 1,100 bottles of water at the 4th of July parade – when Lander literally doubles in size. They also hosted a booth at the county fair where they were able to invite many to church and to speak very candidly of Jesus Christ and our need as sinners for a perfect Savior.
Naples, Florida
The summer months are slow for Christ the King Presbyterian Church as a good part of the congregation heads north. Pastor Eric Hausler and the congregation are looking for ways to reach more year-round residents. Last month they hosted a team from Lake Sherwood OPC. The team spent the week introducing people to the church by doing service projects. They did summer cleaning at a charter school across the street and washed the windows of other tenants in the strip mall where Christ the King meets. They also volunteered at a local thrift store and offered conversational English classes. Pastor Hausler said that the church's positive reputation was greatly increased with each of these neighbors.
Queens, New York
Reformation OPC continued its summer tradition of BBQ&A events at the local park, inviting anyone interested to come, eat free food, hear a brief message, and ask questions.
San Antonio, Texas
Twenty volunteers from three separate churches came together to help San Antonio Reformed run a VBS program. Last year, the congregation had to hold VBS in a local park, but this year, they were able to bring people into their own facility.
In addition to these local outreach efforts, several church plants are holding Bible studies with the hopes that other churches will be established. Providence Reformed Church in Eau Claire, Wisconsin, is supporting a Bible study about 45 minutes east in Thorp. Anaheim Hills Presbyterian Church is spearheading a Bible study in Pasadena and recently began another Bible study in Corona, California. Cornerstone OPC in Houston is involved in starting several Bible studies with the hope of planting more churches in that large city.
Other congregations have had a bit of a breather over the summer, but are gearing up for college students to return for the fall semester. State College, Pennsylvania comes alive in the fall, and Jeremiah Montgomery, pastor of Resurrection OPC is preparing once again to preach on campus each week. Attendance at Hillsdale OPC in Hillsdale, Michigan, swells each fall when the students return.
Pastor Jay Bennett in Neon, Kentucky, has connected with a group of students at nearby Alice Lloyd College. Several of those students have joined Neon Reformed Presbyterian Church. One of the young men has asked Pastor Bennett to lead a Bible study with a group of young men at his workplace.