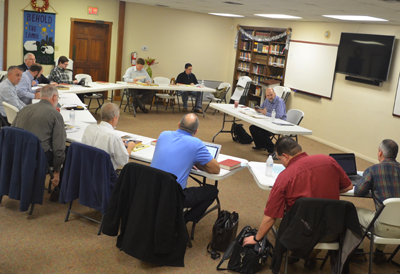 Feature
Training Church Planters
Sean Gregg
Every church plant – and every church planter – is unique, but there are basic principles that help to guide church planters n the OPC. These principles are contained in the book Planting an Orthodox Presbyterian Church. But OP church planters have more than a book.
Every year, the Committee on Home Missions and Church Extension holds a Church Planter Training Conference with intensive instruction, encouragement and fellowship for new church planters and invited guests. Grace OPC in San Antonio, Texas hosted this year's conference.
While 2015 was a light year for new church plants in the OPC, Two new church planters and two new regional home missionaries attended the conference, along with several guests who might be involved with church plants in the near future.
John Shaw led discussions on topics ranging from Biblical Foundations of Church Planting to The Organizing Pastor – His Life and Ministry to Developing a Mission Work-Promoting Spiritual Growth and Evangelism.
Mark Sumpter, attending the conference as one of the new regional home missionaries, also presented door-to-door evangelism. He admitted that there were some who reacted to his visits with foul language, more who shut the door in his face, but a few with whom he was able to have significant gospel conversations. He told the group that he and others have begun singing regularly on the lawn in front of his apartment complex. Some have joined him, others slowed down to take pictures of him. It is one more way to introduce himself and a new church plant to the community.
In addition to thinking about the basics of church planting, conference participants for the last two years have had an opportunity to work with former OP church planter Brad Hertzog to produce a brief introduction video for their church plants' websites. Brad works with the participants ahead of time to help them think through what they'll say in front of the camera. Then, Brad, and his camera crew shoot the video for each man while they are gathered for the conference.
Now the conference is over, and the men have gone back to their congregations, renewed and better prepared for the hard work that lies ahead. Remember to pray for these men as they seek to serve God without the benefit of a local session, and established congregations.