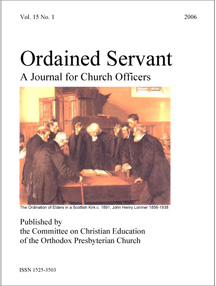 April 2006
From the Editor. You may be noticing that, while we are republishing some of the best of past Ordained Servant articles, I am approaching them through the lens of media ecology, i.e. stewardship that recognizes and wisely navigates the formative power of technology in general and communication technologies in particular. As various movements within Protestantism are altering theology and worship to "keep in step with the times," a confessional Presbyterian and Reformed approach to culture is paramount. If we fail to understand the zeitgeist, especially in the "electric" age, we are doomed to be transformed by it. If you do not think you are in danger of being transformed by the world you are in the greatest danger of all.
To date, of nine articles published in OS since 1992, under the index heading of "Computers and the Church," only two offer any analysis of the new electronic situation. One of these is wholly positive in its assessment—and that I think naively; the other thoughtfully identifies five problems. David King's "Thoughts on the Plusses and the Pitfalls of Using the Web for Mutual Ministry" (reprinted from Ordained Servant 7.1, January 1998) is the only article in fourteen years to offer critical analysis of the new technology and the environment it is creating. While Mr. King does not approach the Internet as a medium—or a medium of media—his critical instinct is an important one that we need to cultivate as leaders. Taking our cue from this trajectory I want to continue challenging you to greater media stewardship.
In this month's edition of OS, Arthur Fox reviews the latest version of BibleWorks. Servant Helps will be a regular feature of OS to help you as an officer in the church. This inclusion is the first new article in 2006, and also proves that the editor is not a Luddite. Yes, the Internet, the computer, and BibleWorks are useful tools. Everyone knows that. But what we most often fail to see is how these tools change the world, and the way we see and relate to the world, one another, and God. In this issue we will think especially about how our way of being the church, called Presbyterianism, is being altered by the new environment.
In the annual printed editions of Ordained Servant I intend to have a section called "Servant World" in which there will be articles on apologetics, culture, literature and film, and media ecology.
Blessings in the Lamb,
Gregory Edward Reynolds
Contents