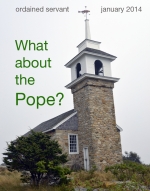 January 2014
From the Editor. As we continue to think about church government, a very relevant topic presents itself with the election of the 266th Roman Catholic pope, Jorge Mario Bergoglio, Francis I. The typical evangelical response is almost unanimously positive. The important questions about papal doctrine and the papacy are not normally being asked. While we should always be thankful for any leader who appears to be humble, generous, and intelligent, this should never distract us from asking the more fundamental questions—in this case religious, theological, and ecclesiological questions. This month two venerable OPC church historians, Daryl Hart and John Muether, look at the new pope in terms of his relation to the theology and practice of Vatican II.
In my two-part article "Democracy and the Denigration of Office," I explore ways in which egalitarianism has diminished the biblical view of church office, and offer some remedial suggestions.
Riley Fraas offers six excellent reasons to read a new biography of Calvin's forgotten colleague, Pierre Viret.
Finally, usher in the new year with some edifying humor from Eutychus II; a special, sweet poem by Robert Herrick: "The New-yeeres Gift."
Blessings in the Lamb,
Gregory Edward Reynolds
Contents
FROM THE ARCHIVES "CHURCH GOVERNMENT, PRESBYTERIAN POLITY"
Ordained Servant exists to help encourage, inform, and equip church officers for faithful, effective, and God-glorifying ministry in the visible church of the Lord Jesus Christ. Its primary audience is ministers, elders, and deacons of the Orthodox Presbyterian Church, as well as interested officers from other Presbyterian and Reformed churches. Through high-quality editorials, articles, and book reviews we endeavor to stimulate clear thinking and the consistent practice of historic, confessional Presbyterianism.