Reviews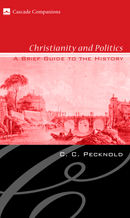 Three books on Christ and Culture
Pecknold, Trueman, Hall & Padgett
Reviewed by: Richard M. Gamble
Date posted: 08/05/2012
Christianity and Politics: A Brief Guide to the History, by C. C. Pecknold. Eugene, Ore.: Cascade Books, 2010, xxii + 174 pages, $23.00, paper.
Republocrat: Confessions of a Liberal Conservative, by Carl R. Trueman. Phillipsburg, N.J.: P&R, 2010, xxvii + 110 pages, $9.99, paper.
Calvin and Culture: Exploring a Worldview, edited by David W. Hall and Marvin Padgett. Phillipsburg, N.J.: P&R, 2010, xx + 326 pages, $19.99, paper. Reviewed by OP member Richard M. Gamble.
Click here for the reviews.
Click here for a second review of Republocrat.
Copyright © 2018, The Orthodox Presbyterian Church. All Rights Reserved.