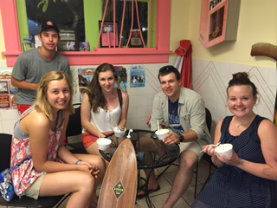 Short-Term Missions
Testimonial: Key West Evangelism Training
Janet Birkmann
June 24–29, 2015, a team from Grace OPC in Columbus, Ohio, including five members of the youth group and two adult leaders, traveled to Key West to receive evangelism training and experience from OP Pastor Bill Welzien of Keys Presbyterian Church (OPC) and Keys Evangelistic Ministries (KEM).
Team leader Mrs. Michele Sinacori shared with us the follow-up reports/thank-you notes that the team wrote, and they serve as wonderful testimonials to the value of this unique short-term missions opportunity in the OPC. Here are some excerpts:
Thank you so much for hosting the mission trip organized by Mrs. Sinacori, June 24th-29th in Key West Florida. It was an amazingly impactful trip in which my heart was turned toward God in many ways because of your gracious teaching . . .
Thank you and your church for letting our group come and learn about Evangelism. Your teaching was thought-provoking and informative, and the evangelism at Mallory Square really took me out of my comfort zone, helping me to feel more comfortable talking to people about the good news of Jesus . . .
I absolutely LOVED the evangelism training that I received first hand from Pastor Bill. I would love to be in the mission field someday and God really showed me that this is one adventure. Pastor Welzien has such great knowledge, and I felt honored being able to learn from him . . .
I did have fun with my family on all of the activities there. Mallory Square was really nerve-wracking. I spent most of the time waiting for it to get over because I was so nervous but I did jump out of my shell a little bit and try to talk to some people and I was glad I realized I had the courage to do it . . .
My experience on the trip to Key West was absolutely amazing! I made so many friends and created lots of new memories . . .
Read the full testimonials here!
PHOTO: Five teens from Grace OPC (Columbus, OH) in Key West
Visit www.opcstm.org for more summer STM testimonials!