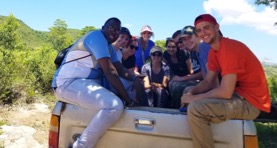 Short-Term Missions
Video: Team Haiti 2017
Amelia Bolyard
Amelia Bolyard of Reformation OPC, Morgantown, West Virgina, was a member of Team Haiti in June 2017, traveling to Haiti to work with missionaries Ben and Heather Hopp to present VBS programs and catechism training in the Creole language with the help of local translators. The video portions of the excellent presentation that Amelia put together for her church provide an added perspective on the work in Haiti that photographs can't quite capture!
Click here to view the video!
PHOTO: Team Haiti 2017
Visit www.opcstm.org for more photos and testimonials from those who have served as short-term missionaries in the OPC!