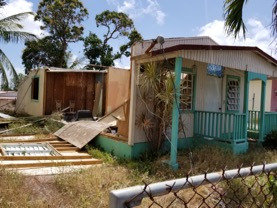 Short-Term Missions
Deadline April 25: Puerto Rico Disaster Relief Team
Janet Birkmann
There are 5 more openings on a team that will travel to Puerto Rico, MAY 5-12, 2018, to work on the homes of OPC church members in San Juan, Puerto Rico, that are still damaged from Hurricane Maria that hit the island in September 2017. Your COSTS will include your transportation to and from Puerto Rico, plus $250 to cover food, local transportation, liability insurance, and more. Lodging is provided.
The WORK will include 1) Indoor, outdoor, skilled, and unskilled jobs; 2) Skilled jobs will include welding, masonry, and metal roofing; 3) Power washing and re-coating cement roofs to keep the water out; 4) Helping residents with painting where there was water damage; and 5) bringing encouragement to the church and perhaps helping with local outreach.
Contact: Click here for all the details or to reach the team organizer, Rob Brinks.
PHOTO: Puerto Rican home ripped apart by Hurricane Maria.
Copyright © 2019, The Orthodox Presbyterian Church. All Rights Reserved.