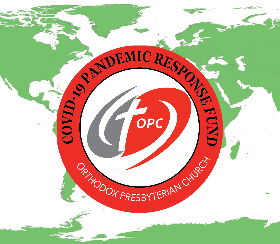 Short-Term Missions
COVID-19 Pandemic Response Fund (CPR)
Trish Duggan
The Committee on Diaconal Ministries recently opened up the COVID-19 Pandemic Response (CPR) Fund. This fund will be used to help churches and individuals especially hard-hit by the COVID-19 virus.
We anticipate great needs locally and regionally. Please first contribute generously to your local deacons' fund and to your presbytery diaconal fund. For those of you who are able to give above and beyond local and regional needs, we invite you to give toward this fund to participate in meeting needs in the OPC or within our sister churches around the world. Please consider that soon we will receive our economic stimulus checks that could be shared with those in need.
· To give online, please go to the "Donate" page on OPC.org.
· To give by check, please go to the CDM website, OPCCDM.org, for instructions.
· Questions or concerns, please contact us: diaconalministries@opc.org.
We will be posting updates on social media. Follow us @OPCSTM on Instagram and Twitter.