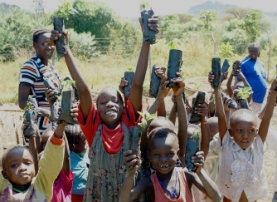 Short-Term Missions
Team Uganda 2015 - Apply Now!
Janet Birkmann
The Youth Committee of the Presbytery of Southern California will send out a short-term missions team of 8 individuals to assist the missionaries of the OP Uganda Mission this coming summer and invites you to explore the possibility of joining the team!
Dates: June 22 – July 23, 2015
Team Uganda's Ministry:
The main focus of the work will be to assist the ministers in making use of the newly translated First Catechism to teach Biblical truth in the public schools, in Karimojong villages, and in the OP Mission's own pre-primary school.
A partial list of other activities includes:
Construction and maintenance.
Working with Karamoja Education Outreach (KEO).
Working with Akisyon a Yesu Presbyterian Clinic.
Working on the farming project.
Cleaning, organization, clerical tasks.
IT support.
Watching missionary children.
Qualifications for Team Membership:

Communicant member of your church.
Faithful service in your home church (pastoral reference is required).
Minimum age is 18.
Desire to share your faith in Christ.
Various talents: teaching, music, sports, arts and crafts, and/or skits.
Ability to organize and participate in VBS-style activities.
Friendly cooperation with teammates.
Willingness to submit to the team leadership and the missionaries at the Karamoja station.
Cost:
The cost for this wonderful opportunity is $1,500 per person plus airfare (estimated at $1,700-$2,500).
Application:
Request an application by emailing David Winslow at dwinslowjr@aol.com.
Also ask your pastor or elder to provide a brief recommendation.
Deadline:
Applications must be returned as soon as possible or by February 28, 2015.
Printable Brochure:
Click here for more details and a printable "Team Uganda" brochure.
Visit www.opcstm.org for more opportunities for short-term service in the OPC!