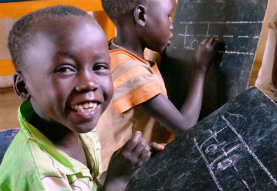 Short-Term Missions
Short-Term Teaching Opportunity in Uganda
Janet Birkmann
Men, women, couples, college students! Do you like to teach, and desire to serve as a short-term missionary on a foreign field? Teachers are needed in Uganda as early as this April! Consider this opportunity to serve with the Karamoja Education Outreach (KEO) project! KEO is under the supervision of Dr. Martha Wright of the OP Uganda Mission. College students looking for an independent study project would be very welcome, and Dr. Wright is qualified and available to act as supervisor of their research work.
The work includes teaching nursery school children, primary-school age children in local public schools, young out-of-school housegirls and shepherd boys, and possibly helping with local literacy outreaches.
Click here to visit the OPC's Short-Term Missions Website for all the details!
Contact:
Those interested in serving are encouraged to contact Martha Wright directly with any and all questions or to request an application form:
Martha Wagar Wright, Ph.D.
Karamoja Education Outreach
Orthodox Presbyterian Uganda Mission
Visit www.opcstm.org for more opportunities for short-term service in the OPC!