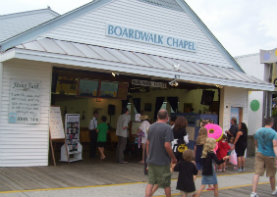 Short-Term Missions
Donate Items to the Boardwalk Chapel
Elizabeth Horst
Plans are underway for some changes and renovations here at the OPC's Boardwalk Chapel in Wildwood, New Jersey, as we look ahead to the busy summer season of 2015!
Please pray as we make decisions, seek to raise awareness of some of our needs, and carry out this work.
In order to accomplish much-needed refurbishing of the Chapel apartments and staff housing, we are hoping to receive certain pieces of equipment, tools, and appliances by donation.
Items currently needed include the following:
A PowerPoint projector for Chapel programs or concerts
Two round tables, 3–4 foot in diameter, bar height
Several bar stools
Two refrigerators, either regular or commercial-sized
Two gas stoves​
Kitchen cabinets
Small kitchen appliances, including a food processor​ and good knives
Gardening and landscaping tools, including a spade, a hoe, and a leaf rake
Learn more about the Boardwalk Chapel:
Contact:
If you can help with any of these needs, please contact:
Elizabeth Horst
Coordinator of Domestic Operations
The Boardwalk Chapel
Email: eghorst@gmail.com
Visit www.opcstm.org for more opportunities for short-term service in the OPC!