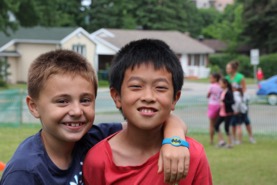 Short-Term Missions
Summer 2017: Join the English for Kids Camp Teams
Janet Birkmann
"English for Kids" camps are Bible-centered, English-immersion day camps that aim to share the gospel with 5-to-12 year old children of non-believing, French-speaking families in Quebec City who seek opportunities for their children to start learning English at a young age. St-Marc's Reformed Church in Quebec City, where OP Missionary Rev. Ben Westerveld serves as Pastor, sponsors these camps each summer.
Teams of English-speaking volunteers from Reformed and Presbyterian churches in North America are sought to help lead the camps. (Individuals may also apply to join an existing team). Teams may bring their own curriculum (click link below for more info). All camp activities (songs, Bible stories, crafts, videos/DVDs, and games) are conducted in English. Children are sent home with a French translation of the Bible lessons that are taught. Bilingual volunteers and a Camp Coordinator act as liaisons between the English-speaking volunteers and the French-speaking children and families.
Current Opportunities:
St-Marc's is currently seeking a a few more people to help lead week #1, and an entire team to lead week #2.
Week #1: June 26 – 30, 2017 A few more people needed to join existing team
Week #2: July 3 – 7, 2017 Team needed
Week #3: July 10 – 14, 2016 Team FILLED
Further Info:
Click here for all the details and to download an Application Form.
Visit www.opcstm.org for more opportunities for short-term service in the OPC!