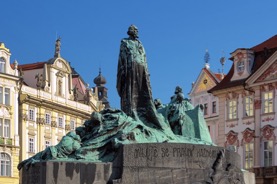 Short-Term Missions
Deadline March 12 to Join Team Praha in Summer 2017
Rev. David Crum
Apply now to travel to the Czech Republic with Team Praha this summer (Monday, July 24 - Monday, August 14, 2017)!
Most of you know that Martin Luther was the man that God used to fan into flame a love for God and His Word that changed the course of history and became known as The Reformation. Most also know that this year the church celebrates the 500th Anniversary of that colossal event!
Now you have an opportunity to visit the home country of Jan Hus, 'a Czech priest, philosopher, Master at Charles University in Prague, church reformer, and a key predecessor to Protestantism' (Wikipedia) who was burned at the stake for his beliefs in 1415, and was an important influence on the life and work of Martin Luther.
Not only that, but you have an opportunity to assist our missionaries, Jerry and Marilyn Farnik, in witnessing to Christ and sharing the Gospel, together carrying on Jon Hus' legacy. Jerry has 30 years of experience as an evangelist to the Czech Republic, and he loves the willingness and enthusiasm of our young folks who want to come alongside him and his family and aid them in their ministry.
Sound too wonderful to pass up? Great!! You can download an application here. But you have to hurry; the deadline to apply is March 12, 2017.
Team Praha Contact:
Rev. David Crum
Visit www.opcstm.org for more opportunities for short-term service in the OPC!