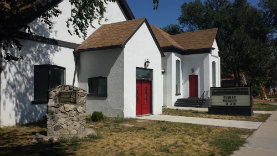 Short-Term Missions
Help Refurbish OP Church Building in Utah
David Nakhla
Here's an opportunity to participate in furthering the OPC's witness in the heart of Mormon country.
In September, I visited Pastor Jason Wallace and his congregation at Christ Presbyterian Church (OPC) in Magna, Utah, outside Salt Lake City. Jason has been striving to establish a congregation there for 16 years. They have had their share of fits and starts. It's a very difficult place to minister. As Jason works with folks to grow them in the Lord, they frequently reach a point where they realize that Utah is no place to raise a Christian family, and they decide to move! So, Jason finds that he is continually growing families and moving them out.
Jason has established quite a presence in witnessing to the Mormon community. He has a weekly, hour long, call-in talk show on a Christian TV station that has a potential audience of 2 million viewers. (This only costs him $250/month!) Quite a few people have visited the church as a result of this outreach, and Jason has challenged many Mormons in their beliefs. He has a winsome and respectful demeanor, and has come to understand Mormonism better than most Mormons. As such, Jason has become quite an apologist in this arena.
Skilled Volunteers Needed
About 8 years ago, the Lord gave the congregation the opportunity to buy a building in Magna, about 15 minutes from downtown Salt Lake City. It was originally built as a Mormon church, then was Protestant for many years, but was neglected and eventually abandoned. They bought the 11,000 square foot building at an extremely good price, but it was in disrepair. Over the years, they have accomplished a number of projects, using discounted construction materials collected locally. But the congregation needs help completing the work!
Volunteers with the following skills are invited to contact Jason to discuss the project and the possibility of traveling to Utah to help out!
Carpentry
Drywall installation
Painting
Light electrical work
A visit of any length would be welcome, and housing will be provided. Up to six people could be accommodated at one time.
Contact:
Rev. D. Jason Wallace
Email: wallace.2@opc.org
Phone: 801-969-7948
PHOTO: Christ Presbyterian Church, Magna, Utah
Visit www.opcstm.org for more opportunities for short-term service in the OPC!