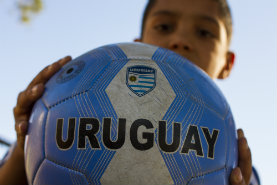 Short-Term Missions
Spanish Speakers Needed for VBS in Uruguay
Janet Birkmann
The new church plant of the OP Uruguay Mission will hold its first VBS this summer in Montevideo, and two fluent Spanish speakers are needed to join the team! Pastor Markus Jeromin, currently filling in for furloughed missionary Rev. Mark Richline, is working with missionary Rev. Ray Call to organize the VBS.
A Reformed congregation in Kansas is sending a team of eight to help present the VBS, and two (2) fluent Spanish-speaking volunteers are needed to complete the team! The curriculum has been selected and the theme will be "Creation." The VBS will take place for about 3 hours each day. Team members will help with various aspects of the VBS based upon their skills and the number of students (ages 5 to 12) that sign up.
Dates:
The VBS is scheduled for Tuesday, July 5 through Thursday, July 7, 2016. Ideally, our Spanish-speaking volunteers will arrive on Saturday, July 2, to get acclimated, work on VBS preparations, and canvass the neighborhoods with invitations. Staying on until Monday, July 11, is preferred so that they can join in "questionnaire evangelism" on Saturday, July 9. This length of stay will also provide opportunities for worship with the missionaries and their families.
Accommodations:
Lodging for our Spanish-speaking volunteers will be provided in the homes of our missionaries. Some meals will also be provided.
Contact:
Please feel free to write directly to Rev. Markus Jeromin for further details or to express your interest in serving:
Email: jeromin.1@opc.org
Visit www.opcstm.org for more opportunities for short-term service in the OPC!