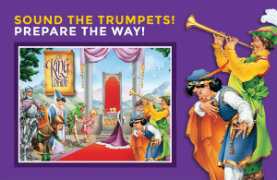 Short-Term Missions
Can You Help? VBS in Middletown PA
Janet Birkmann
It's been many years since Calvary OPC in Middletown, Pennsylvania, has held its evening VBS program! They are currently seeking short-term volunteers to come help them resume the program this summer! A curriculum has been selected from Great Commission Publications entitled, "The King is Coming."
Dates:
July 20-24, 2015 (evenings)
July 25, 2015 (closing program in the morning)
Volunteers Needed To:
Teach/lead VBS classes
Make decorations
Create props for skits
Direct the skits
Lead the music
Run the crafts
Oversee recreation periods
Housing:
Church members will provide housing and meals for all volunteers!
Contact:
For further details, interested individuals or teams are invited to contact:
Mr. Theron Perez, Director, VBS
Email: theronandsteph@gmail.com
Phone: 717-580-8104
PHOTO: "The King is Coming" (Great Commission Publications)
Visit www.opcstm.org for more opportunities for short-term service in the OPC!