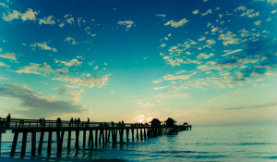 Short-Term Missions
Cross-Cultural Outreach in Naples July 25–Aug 1
Janet Birkmann
A short-term missions team of youth and adults from Lake Sherwood OPC in Orlando, FL, arrived in Naples, Florida, today (July 25 – August 1, 2015) to help Christ the King OPC with service projects and cross cultural outreach to their neighbors. Pastor Eric Hausler of Christ the King shared some of the details with us:
Charter Academy Work Project
The team will be spending at least one day as ambassadors to a charter school across the street from the church, helping with cleaning projects and moving classroom furniture (desks, chairs, etc.). Team members have been encouraged to bring along school supplies to donate to needy Haitian and Hispanic students.
Conversational English Classes
The team will attend four training sessions on teaching conversational English as an outreach tool, and each afternoon they will host a two-hour conversational English class for local non-native English speakers.
St. Matthews House Service Day
The team will spend a day at St. Matthew's House, which runs an Emergency/Transitional Housing and Feeding Ministry, Justin's Place Recovery Program, Collier County jail chaplain service, 5 thrift stores, full-service catering company, and retreat/conference center. St. Matthew's mission is based on the principle, "to impact the lives of the least of these in a spiritual environment that is both compassionate and disciplined." (Matthew 25: 35-36, 40)
Prayer Requests
Pastor Eric Hausler asks for prayer that the Lord would…
give us wisdom in publicizing the English as a Second Language (ESL) conversation classes
draw many participants to the ESL classes – make contacts with local families
use the team to build a bridge to the staff at Gulf Coast Charter Academy
use the team to bless the staff and clients at St. Matthew's House
make contacts as they travel around Naples (beach, Wal-Mart, etc.)
inspire our church to have a greater evangelistic vision
Along with attending prayer meetings and worship at the Naples church, and the possibility of pizza parties with ESL students, sunset beach picnics, and taking an everglades airboat tour, this promises to be a very full trip!
Visit www.opcstm.org to learn more about short-term missions in the OPC!
Copyright © 2015, The Orthodox Presbyterian Church. All Rights Reserved.