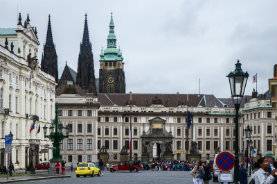 Short-Term Missions
Summer 2016: Join Our English Camp Team
Sherry Wagner
We welcome you to apply to join our short-term missions trip to the Czech Republic next summer (July 13-25, 2016)!
Bayview OPC (Chula Vista, CA), will partner with missionaries Jerry and Marilyn Farnik by providing a team to present the gospel in the form of a summer family "English Camp."
Advertised as an English Camp run by Christians, families are invited to a hotel/resort for one week to attend classes, go on day trips, enjoy sporting activities, and put on skits and talent shows (of which they are particularly fond). Reading lessons are from Scripture and oral discussions revolve around the stories presented in the lessons. The Czechs are familiar with summer camps, but the concept of a camp where the entire family can participate and enjoy a week together is rare, which makes our format all the more appealing. It is a tremendous opportunity to present the Word of God, and student response and interaction is usually energetic.
Click here for further details or to download an application form!
Contact:
If you are over 18 years of age and interested in participating, you are invited to contact me for further details. And, please pray earnestly that the Lord of the harvest will send forth his laborers into this important mission field (Matthew 9:38).
Sherry Wagner, English Camp Coordinator
Bayview OPC, Chula Vista, CA
PHOTO: Prague, Czech Republic
Visit www.opcstm.org for more opportunities for short-term service in the OPC!
Copyright © 2015, The Orthodox Presbyterian Church. All Rights Reserved.