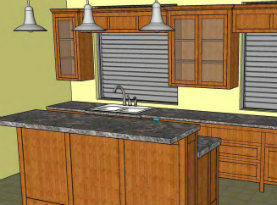 Short-Term Missions
Feb. 18-27, 2015 Haiti Renovation Project
Broc Seaman
December 1st is the deadline to inquire about joining the team that will travel to Haiti (February 18-27, 2015) to perform further renovations to the home of OP missionary Rev. Ben Hopp and his family in Kaliko. Skilled volunteers are encouraged to review the project outline linked below, and contact Project Manager Broc Seaman directly if interested in serving.
Needed are volunteers experienced in:
Tile
Plumbing
Electrical
Kitchen renovation
Cabinet construction and installation
The following letter from Broc provides more details, including the need to raise funds to carry out the work.
Greetings in the Lord Jesus Christ.
If you have been following updates over the last several years from the Hopp family, OPC missionaries in Haiti, then you are probably aware of the transformation that has been taking place at the Kaliko Mission Home. Several teams have participated in various aspects of construction and renovation since the home was purchased.
Construction teams to the mission home have recognized that the kitchen has been in need of renovation. Recently, different individuals have expressed their desire to help meet this need. We currently have a team of experienced cabinetmakers and construction workers from across the OPC ready to serve the Haiti Mission by renovating the kitchen in February 2015. There are several reasons why the kitchen is in need of renovation:
Cabinets, windows, and tiling are original to the house (over 40 years old)
Cabinets have experienced much wear and tear over the years
Temporary fixes have been done but the cabinets do not close completely
Rats nest in and under the cabinets because they are not fully enclosed
A more functional kitchen will aid meal preparations for teams
The scope of the project involves redoing the kitchen cabinets and island, installing security windows and door, and tiling portions of the house. A detailed plan and estimated budget have been compiled. The expected cost to complete the project is $20,000. You will find the drawings and budget in the Project Outline posted at www.opcstm.org.
As Project Manager, I am asking that you would prayerfully consider this opportunity to serve our missionaries who have sacrificed much to minister to the church in Haiti. If you would like to take part in helping fund this project, please present this need to your presbyteries or individual congregations for their consideration. A Special Project has been established and all contributions can be sent to the OPC Committee on Foreign Missions with "Kaliko Mission Home KItchen/Security Renovations" in the memo line.
Please feel free to contact me with any questions you may have. Thank you for your consideration!
CONTACT:
Mr. Broc Seaman, Stated Supply
Concho Valley OPC, Concho, Arizona
Kitchen Renovation Project Manager
Phone: 909-746-6131
Email: brocseaman@mac.com
CONTRIBUTIONS:
Make checks payable to: "Orthodox Presbyterian Church." Write in memo line: "Kaliko Mission Home Kitchen/Security Renovations."
Mail to:
Committee on Foreign Missions
OPC Administrative Offices
607 N. Easton Road, Bldg. E
Willow Grove, PA 19090
PHOTO: Drawing from Project Plan for Kaliko Mission House kitchen
Visit www.opcstm.org for more opportunities for short-term service in the OPC!
Copyright © 2014, The Orthodox Presbyterian Church. All Rights Reserved.