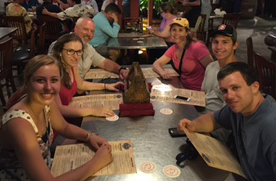 Short-Term Missions
STM Report: Key West Evangelism Training
Michele Sinacori
My name is Michele Sinacori and I've been blessed to be a part of Grace Presbyterian Church in Columbus, Ohio, for over 20 years. My husband's name is Tom and we have been married for 3 years.
I am the parent of two teens, Nick (17) and Sarah (15) Rosato, and I have been trying to put together some activities for our church youth group over the past year or so. In the process of my search for a short-term mission trip within the U.S., I contacted Pastor Steve Igo from Hudsonville, Michigan. He connected me with the OPC Short Term Missions website and that is where I learned that Keys Evangelical Ministries (KEM) invites youth groups to come and stay and experience the "mission field" ministry at Mallory Square in Key West. Little did I know what a treat we would be in for!
After thinking things through, we determined the purpose of our trip would be fourfold:
To learn about evangelism and how to evangelize (from a reformed perspective).
To learn how to assist Pastor Bill Welzien in sharing the gospel at the Sunset Celebration in Mallory Square (put into practice what we had learned).
To minister to Keys Presbyterian Church by helping with any projects that needed to be done in and around the building.
To have fun – getting to know each other better, participating in fun water sports together, and fellowshiping with those we would meet in God's good providence.
READ THE FULL REPORT here!
If any coordinators/youth group leaders are thinking about a future trip and would like help designing an itinerary, and/or if they have questions, I would be happy to help. Our itinerary worked out quite well, and included a lot of watersport activities. Keeping teens busy with a good balance of instruction, service, and fun activities is very important.
(Write to OPCShortTermMissions@opc.org if you'd like to get in touch with Michele.)
Visit www.opcstm.org for more short-term missions reports!
Copyright © 2015, The Orthodox Presbyterian Church. All Rights Reserved.