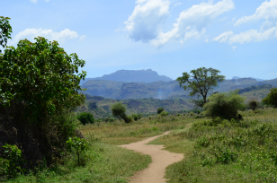 Short-Term Missions
Summer 2015: Serve in Uganda!
Janet Birkmann
March 15, 2015, is the deadline to apply to serve at he Karamoja station of the Orthodox Presbyterian Uganda Mission (OPUM) this summer. The mission invites you to come and serve, learn, and assist in the active ministry of word and deed carried out daily in the Karamoja region of Uganda!
OPUM is seeking the help of individuals with the following skills for the summer of 2015:
medical skills to work at the Akisyon A Yesu medical clinic
pastoral interests to work with the ministers
teaching experience to work with Karamoja Education Outreach (KEO)
construction/mechanical skills to work on diaconal projects
Deadline:
The deadline to submit your application and references for a summer visit is March 15, 2015.
Information and Applications:
OPUM maintains an excellent website at www.opum.org that includes an extensive and carefully detailed visitor's handbook (Karamoja Handbook) which is must-reading for anyone interested in serving in this remote region of the world.
Download an Application Form that includes additional details about service in Karamoja.
Contact:
Mrs. Sunshine Okken
Karamoja, Uganda
Email: dsokken@gmail.com
Visit www.opcstm.org for more opportunities for short-term service in the OPC!
Copyright © 2015, The Orthodox Presbyterian Church. All Rights Reserved.