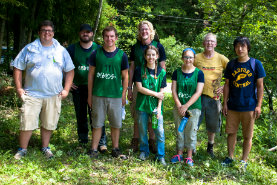 Short-Term Missions
Summer 2015: STM Trip to Japan
Janet Birkmann
The deadline to apply to join the team going to Japan this summer is May 2, 2015. The Presbytery of Ohio Foreign Missions Committee invites you to apply to be part of the seven person team to serve alongside of our missionaries in Japan for disaster relief work near Sendai from July 29 to August 10, 2015.
This effort is in conjunction with the work of the Nozomi (Hope) Center in Yamamoto-cho, a cooperative center sponsored by the Reformed Church in Japan and the Orthodox Presbyterian Church.
The nature of the work will be to:
Assist the largely agricultural community and neighborhood around Yamamoto with various outdoor manual labor projects.
Host a BBQ lunch for the community.
Assist with kids Bible camp.
Qualifications:
You must be at least 18 years old by July 29, 2015, to apply to serve on this team.
Application:
The deadline for the submission of the written application is May 2, 2015. Candidates will be asked to sit for a Skype-conference phone interview as part of the selection process. Applicants will be notified by invitation to participate by May 16th.
The application can be found at the OPC short-term missions website by clicking here.
The Nozomi Center:
The Nozomi Center was established by the Reformed Church of Japan and a coalition of three mission organizations including the OPC following the Tsunami of March 2011. From their website:
"…out of the rubble God provided a beautiful building to serve the needs of the community. Teams of volunteer carpenters from USA cleaned and remodeled the building to become a functional care center. Since the opening in May 2012, volunteers and staff have served at the near by temporary housing units providing emotional care.
"The center is open for all ages to find listening ears and caring hearts. It is a place to develop friendships. It's also a place where God's love and grace, the source of true hope, can be felt and experienced. Nozomi Center is a place for His people to express the love of Lord Jesus Christ in word and deed."
Contact:
For further information, please contact:
Rev. Ken B. Montgomery
Associate Pastor, Redeemer OPC, Beavercreek, Ohio
kenbmontgomery@yahoo.com
PHOTO: 2014 Short-Term Missions Team in Japan
Visit www.opcstm.org for more opportunities for short-term service in the OPC!
Copyright © 2015, The Orthodox Presbyterian Church. All Rights Reserved.