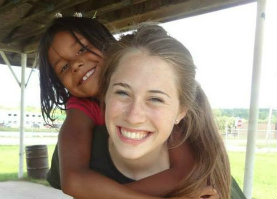 Short-Term Missions
Report and Testimonials: Venture Mission
Kelly Rose
(by Kelly Rose, Covenant OPC, Orland Park, IL)
Every summer, a short-term missions team made up of students from the Presbytery of the Midwest gathers for the "Venture Mission" project, held on the Menominee and Stockbridge Indian Reservations in Zoar, Wisconsin (sponsored by two OP churches located there). The team is first trained, and then prepares, promotes, and presents a Vacation Bible School (VBS) on each reservation – all in the course of one week! Much relies on the maturity and initiative of the team members, many of whom have served year after year and have grown both in their commitment to missions and their love for the children they meet.
Here are testimonials from a few of this year's team members:
This entire experience has been such a blessing in so many ways, both for my relationships with people in my own culture and in a different one and with my own God . . .
This year, God gave me a certain peace in my work on the Menominee reservation. The pressure that I had previously felt to "get people into the kingdom" was replaced by the knowledge that God is the one who brings salvation, not me . . .
Sharing the love of Christ is an amazing thing. I am ever grateful that God can decide to use us as instruments in His plan of salvation. Oh, the joy that filled my heart. Nothing can compare . . .
Click here to read the full testimonials!
PHOTO: A Venture Mission team member with a young VBS student!
Visit www.opcstm.org for more testimonials from those who have served as short-term missionaries in the OPC!